Prom a Necessity for Every Girl's High School Experience
WOODBURY — Every little girl dreams about finding their perfect dress and having the perfect prom night — it's a rite of passage and an essential part of the high school experience for students. Not being able to attend prom this year would devastate and crush so many people. 
This year's prom has been up in the air for a while. Since March 1, Nonnewaug has been able to be mask free, or mask optional, which puts us already in a better situation than last year. 
Many juniors were concerned that they would not be able to attend prom as they would have in past years, but a final decision has been made.
"We will move forward with a junior/senior prom and seniors may invite guests," said Pamela Sordi, NHS principal.
This decision made many juniors and seniors excited and relieved. 
At Nonnewaug, in a typical non-covid year, juniors and seniors are all allowed to attend prom and bring a plus one. Covid-19 wrecked this — two years ago prom was canceled and the class of 2020 was left without a prom experience. So the following year, it was essential for them to be able to have a prom, whether it meant having restrictions or not. 
The 2021 NHS prom included seniors and a plus-one. This allowed room for the class of 2022 to jump in and team up with a senior to attend prom as they would any normal year. Adding to those restrictions, any person that attended prom had to wear a mask. 
Many speculations about who was going to be able to attend prom this year went up into the air. Before everything was confirmed at NHS, the junior class had concerns about whether or not they would be able to go. 
"I was annoyed because I had already bought things for prom and I wouldn't be able to return them," said Leah Murphy, junior at Nonnewaug.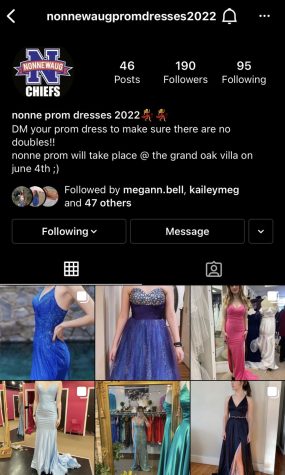 Everyone should have the opportunity to make it to their prom and have the prom experience. 
"It is an experience that you only get once or twice in your life," said Murphy. 
Given the past two years, which were corrupted by Covid-19, it is vital that both juniors and seniors have the chance to go to prom. 
"We haven't had a lot of normal things in the past two years. So I think it's important for us to get that normalcy back and just be able to be kids," said Sophie Pape, junior at Nonnewaug. 
"We haven't had many opportunities to do normal things in our lives the past two years so it would be important to get one," said Murphy. 
Prom is a school tradition created decades ago; it is something people never forget as those memories are something people carry with them forever. 
"For me growing up with sisters, I have grown up watching them getting ready for prom and other events. This has made me excited to do this myself and be able to live out that normal high school experience that has been stripped away from other people," said Pape. 
For seniors especially, prom is one of the last school events to bid farewell to their friends before they graduate.