Schedule Speculation: Returning to Old or Staying with New?
WOODBURY — Hey, what classes did you pick next year? I hope we end up in the same horse management class!
These are common phrases heard around the halls of Nonnewaug at this time of year. Scheduling classes is a long and stressful process for students as well as teachers to ensure everyone has a successful next year of school. With COVID restrictions gone, the fear of not being able to be in school is also gone, so the thought of possibly changing the schedule for the 2022-23 school year is underway. 
The Options 
Administration sent a survey to all current upperclassmen March 10 about which schedule they preferred, as they experienced both options being considered. Underclassmen were also sent the survey with example schedules so they could also understand the options. Underclassmen also reached out to upperclassmen for a better explanation of the schedules. 
Before going remote in March 2020, the schedule consisted of seven 55-minute classes for three days, and the other two were block days with 90-minute classes. With the hybrid learning of the 2020-21 school year, block scheduling was created to ensure longer instructional time, with 90-minute classes each day, along with a split seventh period each day. The schedule was implemented again for this school year with the uncertainty of COVID lockdowns occurring again. 
Student Scrutiny 
Students are split between the block scheduling and the original schedule from the 2019-20 school year. 
"I've only witnessed the current schedule, but I would like to have the original one," said sophomore Devon Zapatka. "As an ag student, I will be able to have two junior ag classes instead of one; the block scheduling was limiting the amount of ag experience I could obtain."
Ag students are split on the schedule's impact. Depending on one's area of interest, 90-minute classes can either benefit or drag out the class period. Classes like mechanics, which repair numerous items around the ag department and their own projects, as well as vet science, which has numerous animal enclosures to clean as well as lab work to be done, benefit from the longer class periods but are hurt from the class not meeting every day. 
"It feels like my class [ag leadership] meets once a week because of the alternating Period 7 [for ag students]," said Ryan Wicklund, a junior at NHS. "The days where I'm not in ag, we can't get work done because the Period 7 is so short and they don't give us enough time to get work done."
Although ag students are torn on what schedule they prefer due to the contrasting opinion of their beloved ag classes and not so much liked regular classes, fine arts students, including those in music, culinary and visual arts, enjoy having the longer classes that come with a block schedule. 
"For art, it is so nice to have more time to work," said Sarah Walsh, a junior art student at NHS. "For regular classes, not having the class every day means having less homework as you can get the work done in class."
"I think going back to a 1-7 period day would benefit students," says Alyssa Hodges, a junior at NHS. "Kids don't focus [in class] as much with block scheduling and they're able to focus for the shorter classes and retain the curriculum they are being taught."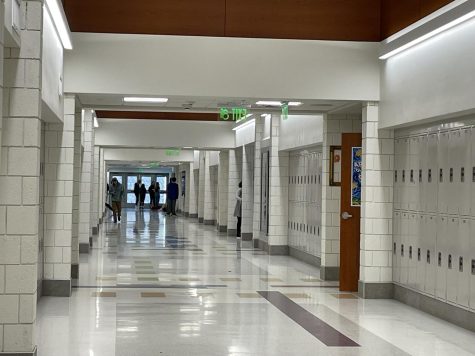 Teacher Thoughts 
Staff members are also torn between the block scheduling and the original schedule. 
"I voted for sticking with the blocks," said NHS math teacher Ray Robillard. "I was hesitant when we went to block scheduling. Now we are all [on the block schedule], I like it more. [It's] less rushed and less pressure to get to a certain point in a 50-minute period of time vs. the 90 we have now." 
Robillard explained how teachers can use block scheduling for success.
"Even though classes could drag, as long as you prepare different activities, it doesn't feel like 90 minutes," Robillard said. "It requires teachers to mix things up in the 90-minute period. Part of the class is a lecture, then some independent practice, then group practice, and some online activity. I've become a believer in it."
"I do not like the block schedule," stated NHS vet science teacher Michael Lavoie. "I feel like it bores the students and takes too long. The students get antsy if they have to do worksheets or sit for a lecture. However, on lab days where experiments or hands-on work is being done, the block schedule is great as there isn't a rush."  
"Both schedules have advantages and disadvantages," said NHS math teacher Marty Malaspina. "The 1-7 periods feel a little quick and not as productive by the time students get settled and attendance is done; that's why I prefer the block schedule."
Malaspina feels that the way to predict one's feelings if we return to a seven-period day or stay in a block schedule all comes down to how each person feels about their current Period 7 class. Wicklund agrees.
"Do you feel more productive in your Period 7 right now or in your other classes?" he asked.
The Takeaway 
The schedule is the biggest part of daily high school life. Freshman orientation is mainly spent on it, and there are class interruptions asking what time the next period starts. Making sure the schedule works for all students, ag or not, is essential to a successful school year. Whether it is another year of block scheduling or the schedule returns to what it was before the pandemic, it is important to stay open-minded and find the positives no matter the outcome.