Bundles of Joy Arrive in NHS Ag Department
WOODBURY — Spring in the ag department means new arrivals of baby animals for students to learn from. This time of year is stressful for animal science teachers as this means long hours at the school monitoring the newborns and ensuring all deliveries are healthy. 
Kids (baby goats), lambs (baby sheep), kits (baby rabbits), and pups (baby mice) were welcomed to the world by excited animal science students. Let's feature the new and experienced mothers of the NHS ag department as well as their newborns.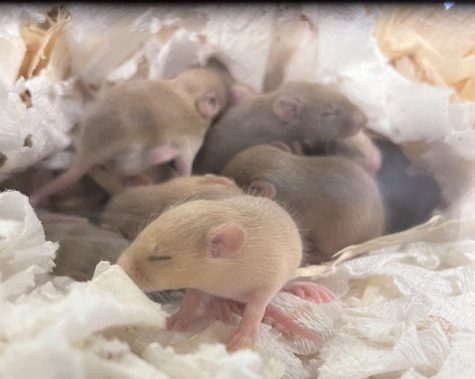 Small Animal Lab Mice
The junior/senior vet science classes worked hard in the winter on their animal behavior and training unit involving mice. Students trained their mice to navigate mazes they designed as pairs. These mice stayed in the small animal lab and some were even bred.
Three mice gave birth to their own litters of babies. Mice are unique and when multiple live together and have babies, they care for all the babies as their own. Students have learned how co-raising baby mice works by observing the mice and how they take turns nursing all the babies. 
Vet science students also learned how to properly "sex," or determine the gender of the baby mice this past week, an important skill in the veterinary field. 
Annie 
Annie the Scottish Black Face sheep gave birth to healthy twin ewes (girls). She was bred by Tiny Tim, a Shropshire ram, and gave birth to the ewes the Ag production class fondly named Cookies and Cream.
 The production students learned how genetics work in regards to how Cookie and Cream are 50% Shropshire and 50% Scottish Black Face but have different traits. Cookie is blac,k while Cream has black legs and a white torso with black spots.
Puddles and Minnie 
American Fuzzy Lops, Puddles, and Minnie each had their own litters of kits (baby rabbit). Puddles was bred to Micky and Minnie was bred to Willie. Puddles and Minnie each had six kits, Puddles having five survive and Minnie having two survive.
"Sadly, sometimes not everyone makes it when rabbits are concerned," said vet science teacher Michael Lavoie.
With seven of the 12 rabbits being born, the program has been proven a success with breeding rabbits this spring. 
Members of the rabbit showing team will be showing some of the rabbits born as well as the parents. 
Bella
Bella the Scottish Blackface sheep was also bred to Tiny Tim (the ram mentioned above) and gave birth to healthy twin rams (boys). They were not given names at the time of this article. These rams were both black with little white spots showing students how genetics can vary even from the same father, as different ewes have different genes as well. 
Lady 
Lady the goat gave birth to healthy twins, a ram (boy) named Ranger and a doe (girl) named Rose. She had a very successful live birth after being a live cover (being bred to a ram instead of artificial insemination). The twins will be halter broke in time for show season and be shown alongside their mom and herd mates. 
"It's important to the [Boer goat show team] to help us familiarize ourselves with the breeding process and to expand our herd and bloodlines within it," said Vicky Koether, a member of the goat show team that shows Lady.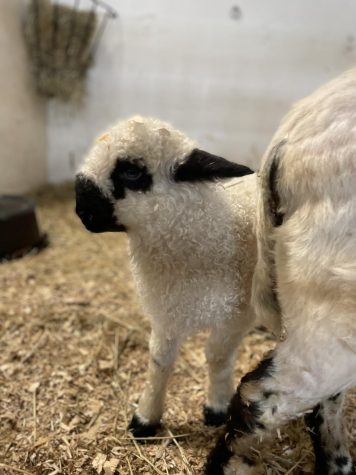 Bonnie 
Bonnie the sheep gave birth to Cedric as a part of a special breeding program to create the Valais Black Nose sheep in the United States.
"Bonnie was laparoscopically artificially inseminated to conceive Cedric," said NHS ag production teacher Kathleen Gorman. 
"There are no Valais Black Nose sheep in the United States because it is illegal to import them from Switzerland," Gorman added. She gave birth to a healthy ram (boy), which the ag production classes fondly named Cedric. He was the first livestock animal to be born this spring and has been a hit with students jumping around on class walks. 
Student Impact 
"I believe that students should have the opportunity to be a part of the breeding process because it is a good lesson in genetics and what we can expect from the parents," stated Lavoie.  
"I'm able to better understand how to raise livestock properly and the best production methods that are needed to be used in breeding and birthing," said ag production student Sarah Walsh. "It makes me a better farmer and is a great way to learn under the guidance of our teachers." 
Overall, the NHS agriscience program has proven successful in educating its animal science students from small animals to large animals and everything in between. By the animal science teachers properly instructing students, they leave NHS with the skills and knowledge to ethically breed and raise their own animals. These animals that were born this spring will also impact future students coming into the program in the fall and in many years to come.