District and State CDE and LDEs: Woodbury FFA is on Top and Plans to Stay There
WOODBURY — The Woodbury FFA is known as being a top chapter on the east coast when it comes to agricultural education. Between its breeding program, fresh maple syrup and honey, and aquaponics system, the program is on the map. Something that you don't think about is the organization's contest results. 
After a successful fall Career Development Event held at UCONN Storrs, the chapter next competed in the district Leadership Development Event contests at Wamogo High School. 
The chapter sent four students to compete in Extemporaneous Public Speaking and FFA Creed Speaking. These events are some of the most difficult to compete in due to the mental strength and endurance it takes to complete successfully.
The Extemporaneous Public Speaking contest consists of the competitor being given a randomly assigned topic, preparing a speech in the time allowed, and then presenting it to a panel of judges. 
"I went into a room with about 25 people in it," said Chloe Walsh, district Creed Speaking winner. "I recited the creed and answered about five questions before time ran out."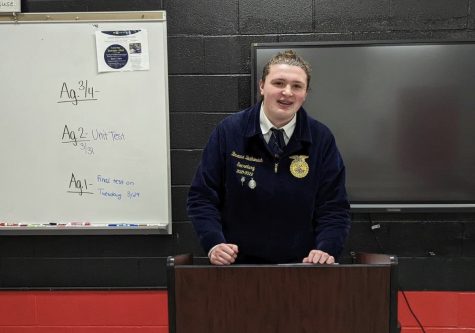 The FFA Creed Speaking Competition is one of the most intense LDEs due to the nature of it being a freshman-only competition as well as the pressure placed on contestants by the judges. 
"I am really looking forward to doing it again at states," added Walsh.
Grace Schmidheini also competed and placed second in the district competition. Schmidheini and Walsh made a great showing for the chapter. All the times they recited the creed on the bus to school together truly paid off.
In the Extemporaneous Public Speaking competition, Anna Goodwin competed and Breana Butkievich tied for first, but then after the tiebreaker ended up placing second. 
The chapter will continue to succeed at the state level in the state competition coming up with members of the chapter competing in Quiz Bowl, Conduct of Chapter Meetings, Parliamentary Procedure, and Opening Ceremonies LDEs as well as Veterinary Science and Environmental Science CDEs.