Harry Styles' 'As It Was' Excites Fans
WOODBURY — On March 23 at noon, pop singer Harry Styles posted on Instagram with the caption, "Harry's House. May 20th." Harry's House is going to include 13 songs as part of Styles' latest album. Since this announcement, Harry fans have been excited and eager for his third album. But what do the students of Nonnewaug have to say about his new album?
"I am very excited about his new album," junior Michaela Pellino says. "We haven't had new music since 2019, so I'm happy we're getting a new album."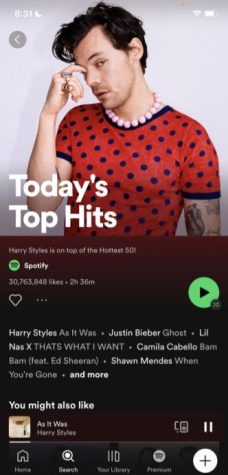 "Yes, I'm super excited to get new music, tour dates, and merch," added junior Caroline Martinetto.
Adding to the anticipation for the album, Styles posted on Instagram on March 28 the first single to the album with the caption "As it was. April 1st."
Before this album was announced, fans were eager to hear new music from this pop singer, with the last time he released new music being December 2019. The song was released April 1 at midnight British time, so for people in the U.S., this song was released March 31 at 7 p.m. with an accompanying music video. 
Statistics Show Styles Thrills Fans
On Apple Music, Styles' single "As It Was" earned the title as his highest peak song, becoming No. 1 on charts, surpassing his past single Adore You, which had been No. 8. The new hit single immediately played across world radio stations, illustrating the global reach of Styles' captivating talent.
On April 1 a Twitter account called @statsharry posted how "As It Was" surpassed his 2019 hit "Watermelon Sugar" and that the new song registered as the No. 1 hit in 15 different countries on iTunes. The music video had also been his fourth most viewed video, surpassing "Treat People With Kindness" in just around six hours. By 8 a.m. on April 1, Styles' song was No. 2 on Spotify having 716,438 plays, per @statsharry. However, the song had the most streams in 24 hours by a male artist overall, breaking the U.S. Spotify record for most streams in a single day.
"I love 'As It Was.' It's a feel-good song with an amazing beat and catchy lyrics," Pellino added. "It gives me a lot of serotonin when I listen to it."
As many people love the song, some have even examined the lyrics at a closer level.
"I really like it. It's very upbeat but with sad lyrics," Martinetto noted. "I think it's really deep and really good."