Nonnewaug Projected to Bring Home BL Titles This Spring
WOODBURY — As the warmer weather is approaching, so is the start of spring sports. Despite the late-March snow and cold weather, the seasons are underway. 
Nonnewaug's baseball team has been preparing for their season and played their first game on April 5, an 18-4 win over Terryville. After the Chiefs' season ended on a devastating loss in the Class S quarterfinals last year, the team is ready to start up again. 
"We have been scrimmaging a lot against other teams and ourselves during practice. Everyone is also doing what they can to be better," said senior captain Brendan Burke. 
Last year the team rounded up second place in the Berkshire League after going 17-3, losing to Northwestern twice and Housatonic once. This year the team is out for vengeance and hopes to bring back the BL title. 
"We have very high expectations this year. We all know we're a very good team, we just have to go out there and prove it. The BL title will be coming back to Nonnewaug this year," said Burke. 
Baseball is not the only team at Nonnewaug ready to start. The NHS girls tennis team is excited to get the ball rolling as they have been preparing for their season that started April 4 with a 7-0 win over Thomaston.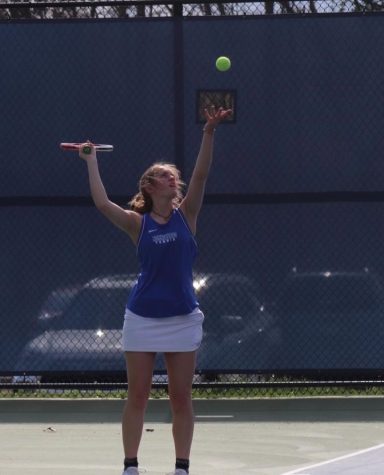 "We have been scrimmaging a lot against other teams and ourselves during practice. Everyone is also doing what they can to be better and our teammates do a very good job of pushing one another as well," said senior Sofia Pagnamenta. 
Last year, Nonnewaug's tennis team clinched the Berkshire League title, tying with Litchfield. The team graduated high ranked seniors including Alexa Burke and Mia Higgins, their first and second singles players, and Kate Green and Stephanie DiSarro, their top doubles players. 
Despite losing some of their top athletes, the team is still in good shape and is ready to compete. 
"I think our team will perform really well this year because we have a lot of great athletes on the team that are improving very fast," said Pagnamenta. 
Girls tennis is not the only tennis team at Nonnewaug vying for a BL title. After coming off an undefeated season and racking up first place with a BL title the boys tennis team has a lot to prove. Last year, head coach Nike Sheikh earned his 200th career win with a 5-0 sweep against Housatonic. The Chiefs are off to a 2-0 start to the season.
Nonnewaug softball team with the addition of a new head coach, Chris Martin, is eager to start. 
With eight of the nine starters returning, the team is a strong contender for the BL title. Headed by Madelynn Orosz on the mound, Brianna Hynds behind the plate, Sarah Cipriani at shortstop, and Alyssa DeMarest in center field, this team is ready to go. Softball will play its first game April 11 against defending league champion Northwestern. 
Nonnewaug track chases the BL title as they begin their season April 11 at Terryville. Last year, the Chiefs finished second in the BL for girls and third in the BL for boys.