Spring is in Full Bloom, and So Are the Greenhouses at NHS
WOODBURY — Spring has officially sprung and with the weather finally starting to warm up, members of the community are getting ready to start up their gardens. The Woodbury FFA is also getting in the spring spirit, working to fill the greenhouses with plants galore. These plants will be available for purchase at the annual Spring Plant Sale on May 7.
For those interested in planting a garden this year, the Spring Plant Sale is a great opportunity to get the plants needed to fill the garden, while also supporting the local FFA chapter.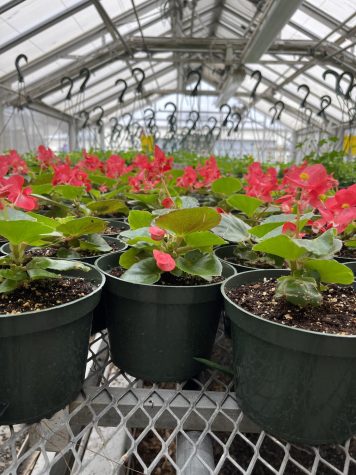 Students of Eric Birkenberger's Greenhouse Production class have been busy preparing for the sale by planting various seeds.
"Currently the students are planting seeds, transplanting, and designing baskets and planters," explains Birkenberger.
The sale is an important event for the chapter, with the profits being used to continue to fund materials and experiences for students. The sale also provides students with experience. They are able to learn about growing different plants and are able to gain knowledge relating to plant production. The sale is also manned by students, allowing them to gain experience working in plant sales and money management, a key life skill. 
There will be a variety of plants to choose from at the sale including both ornamental and vegetable plants.
"We will have Geraniums, hanging baskets, and annual flowers and vegetables," says Birkenberger. "We will also be selling the state children's flower, 4 O'Clock."
These flowers are sold to benefit Michaela's Garden, part of the Petit Family Foundation. All money made from the sale of the 4 O'clocks goes to the organization.
Anyone interested in getting some plants to fill their gardens this year can stop by Nonnewaug on May 7 from 10 a.m. to 4 p.m. to purchase their plants and support their local FFA chapter.