Ag Field Day: Athletics in Agriculture
WOODBURY — "I couldn't believe the outcome [of Ag Field Day]. It made me really happy and accomplished as an events planner," said Ryan Wicklund, Woodbury FFA Chapter tentinel. The Woodbury FFA hosted a new event April 29 for all grades to attend.  
The chapter used to hold a popular event called the Ag Olympics, but finally after a few years a new iteration was created this year called Ag Field Day.
"My favorite part of Ag Field Day was seeing everyone having fun together as a chapter and seeing some friendly competition (that) was needed," said Casey Watson, chapter treasurer.  
Participants of this event would compete in activities related to ag like hay bale tossing and log throwing, but there were also more conventional events like tug of war and kickball.
So many kids unexpectedly showed up to this event — close to 50 students attended, and the officers still made the event run smoothly.
"Did it run smoothly? Yes and no. We cleaned up fast and we got set up fast. The only problem was because of the mass amount of people," said Wicklund. "Some events ran slower than others but we were still able to time everything correctly and get people home on time."
Participants had lots of fun due to the planning from the officers.  
"I think the event was a success because everyone felt put together, even when other teams won," said Kyleigh Paige, NHS freshman. "When the FFA holds events like these it goes students to be good losers and it even makes better winners."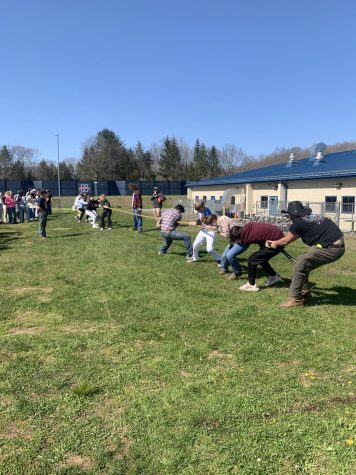 It was nice to reflect on how the event was continued in a new form.
"I definitely think the officers will either hold this event or just the traditional Ag Olympics for next year," says Tom Dimarco, NHS landscaping teacher and alumnus of the program. 
Plenty of students loved the event but some feedback was given for the event next year.
"We had a few reviews. People wanted to see food there, [or] maybe have a few stations going at once so it goes by a bit quicker," says Wicklund.  
This April was also a lot chillier than expected and it was also windy. There were a couple of games involving water and some students were not too excited about it.
"The chapter should definitely hold it again so more people can participate, and we can do fun games with water when it's not so cold," says Watson. 
The Woodbury FFA holds lots of events over the year but this one isn't going anywhere based on how many people loved Ag Field Day.
"It was fun and hilarious to watch our classmates and friends fight to make it to the top and be the best at field day," says Paige.