Coachella's Successful Return Following Two Years Sidelined
 WOODBURY – Coachella is back on after two years away due to the pandemic! This exciting news means artists get to perform again. After two years of no performances, viewers were able to see some older artists and some newer artists back on stage. The event was ran from April 15th-17th as well as April 22nd-24th. Each day of the event there was a main performer: Harry Styles on Friday, Billie Eilish on Saturday, and Swedish House Mafia + The Weeknd on Sunday.
Styles
 The Friday of each weekend pop singer Harry Styles headlined Coachella that day making these days must-see television. This was Styles' first time performing and headlining at Coachella. On the weekend of April 15th he performed one of his newest songs,  As it Was, while singing some of his other discography from his past two albums Fine Line and self titled Harry Styles. Styles also sang two new unreleased songs that are going onto his new album. The songs included Boyfriends, and Late Night Talking. During his 2 hours on stage he also brought out a surprise guest; on the 15th his surprise guest was Shania Twain which Styles  sung two songs with, Man! I Feel Like A Woman!, and You're Still the One. The second weekend the setlist was the same, however instead of performing with Shania, Styles had brought out Lizzo. The iconic duo performed a duet of What Makes You Beautiful, as well as singing a cover of I Will Survive. 
 "My favorite set was definitely Harry Styles," says Junior Emily Crawfor. "I think that he was my favorite because he always brings the most energy and he always puts his all into all of his performances; his vocals live are also incredible and show all his looks amazing." I've been a Harry fan for as long as I can remember and he blows it out of the water every time he steps foot on a stage," Hayley Anderson agreed.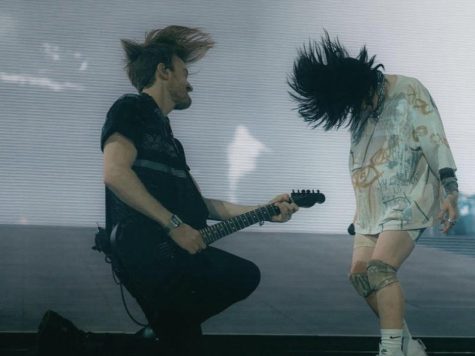 Eilish:
Billie Eilish was the main performer for each Saturday of Coachella . Eilish is now one of the youngest performers to lead Coachella at 20. For the opening weekend Eilish had a 25 set song performance. She sang multiple songs from her latest album Happier Than Ever. She also brought out 2 surprise guests who were Khalid, and Damon Albarn. During the second weekend she performed with Paramore singing Misery Business. She also sang some of her hit songs Therefore I am, My Future, and Happier Than Ever. 
Swedish House Mafia and The Weeknd
Swedish House Mafia and The Weeknd performed each Sunday. The set started with Swedish House Mafia's singing hits like Don't you worry child. Next was The Weeknd's set where he sang some of his greatest hits such as Starboy, and I feel it Coming. As some may know Kanye West was originally supposed to perform however as it was known Swedish House Mafia and The Weeknd had replaced him. The decision to replace Kanye is still unknown. According to the website yahoolife, " He just plowed through his set," yahoolife noted about The Weeknd's performance, noting he "smartly reiterat[ed] how Weekend 2 is always better than Weekend 1." 
Ending the set, Swedish House Mafia came back to the stage singing Moth to a Flame with The Weeknd.
Other artists who performed at Coachella during the day were artists such as Phoebe Bridgers, Megan Thee Stallion, Conan Gray, Doja Cat, Brockhampton and many more artists.
Overall, Coachella was a massive hit for people all over the world with it finally coming back after COVID. 
"I would love to go to a concert!" Crawford continues, "They always look so fun and I think it would be a great experience to go to one."