College Decision Day 2022: Stress and Satisfaction
WOODBURY — Where will my next four years take place? It's a thought that seniors have just figured out, and juniors are beginning to think about. College Decision Day is a time to show off students' next home. Seniors have mixed feelings about the premise of the day. 
"I'm excited, but also [College Decision Day] is a little nerve-wracking," said Julia Lawlor, who will be attending the University of New Hampshire in the fall. "I'm sad that we are graduating and everything but I'm ready to move on."
Students attending well-known schools such as Columbia, Louisiana State University, University of Connecticut, University of Maine, and University of Massachusetts get to strut their stuff and have almost everyone know where they are going. Students attending lesser-known colleges, community colleges, or trade schools, however, struggle to have others create the same energy for them.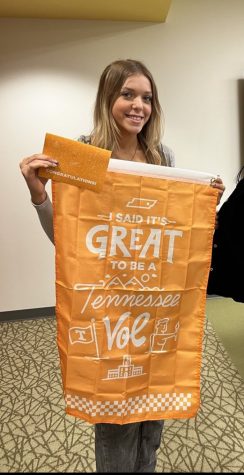 "I think [Decision Day] is a lot of pressure and isn't fair for people who aren't going to well-known schools. Nobody is going to be like, 'Oh, I'm going to community college,' and it's not fair to people who can't afford the nicer colleges," said Kennis McCarthy.  
A preview of the Decision Day celebration took place during Spirit Week with "College Shirt Day." The whole school participated, with teachers wearing shirts of their alma maters, and underclassmen wearing shirts from their dream schools or schools of siblings. 
Seniors then wore their college gear on Decision Day on May 2 (May 1 was a Sunday so it was pushed ahead).
"It's definitely nerve-wracking. It is so much to mentally prepare for," said Shayne McBrien.
Seniors are preparing for the end, saying goodbye to their friends and leaving the lives they have had for the past four years at NHS. Out-of-district students have done this before by leaving their hometown school systems, this is just now on a bigger scale. For in-district seniors, this is the first time they will be leaving friends they have been going to school with since kindergarten. 
"At the end of the day, life goes on and you just have to move on," added Emma Long.