Decals Galore: College Door Decorations at NHS
WOODBURY — Returning to Nonnewaug is the celebration of college and career door decorations. This activity asks that each advisory picks a college or a career and then decorates their door with pictures and a name of the college and careers selected.
What did the advisories choose?
"Our advisory chose Post University because that is where one of the students is planning to go," says Toby Denman, science teacher. "She is also planning on playing soccer there."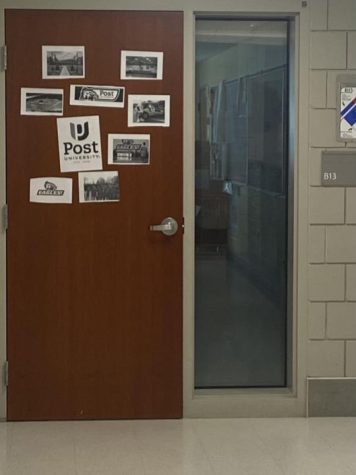 "My advisory chose Duke University," says Matthew Greaves, Spanish teacher. "It was the only school suggested and it was not already taken!"
"I know we picked New York University," says Kyle Brennan, history teacher, "because one of our students was all about it."
"We chose Columbia University after I asked students what kinds of schools they would want to go to," says Benjamin Guerette, English teacher. "I asked about in-state versus out-of-state, big versus small, city v. country—that sort of thing. I also mentioned Columbia to them since a senior Jeff Stein is going there, and I thought it would be interesting to choose a prestigious school that someone at Nonnewaug had worked hard enough to get into. I thought if we had questions about the school, we would have someone right down the hall who could give us more information." 
While the door decorating activity is designed to be a fun moment for advisories, the activity at its core has helped students understand the opportunities that await them beyond graduation.
"We chose the U.S. Navy for our door," says Scott Parkhouse, history teacher. "We chose the Navy because it connected to the person we highlighted for Black History Month, Dory Miller. Dory Miller was one of the heroes of Pearl Harbor and he was in the Navy, so we kept that theme going."