Hands-On Learning: Physics Fun at Lake Compounce
BRISTOL — "Your visit to Lake Compounce is an opportunity not only to have fun but also to learn about science and the use of technology throughout the park. Use our education program and our exciting rides to broadcast your appreciation of science. In this program, you will learn about how each ride operates and the laws of physics that allow some of our most popular rides to function!"
Lake Compounce provides that information about its "Physics Fun" program, the destination for many Nonnewaug science students in May.
The NHS science department sent physics students to Lake Compounce on May 20. College prep, honors, and AP physics students enjoyed a day of experiencing the physics they have learned throughout the year. 
"Everyone should observe or ride the Zoomerang and bumper cars," said William Pease, NHS physics teacher, in a Google Classroom post.
Many students couldn't imagine being assigned such a task as observing. Students decided riding the rides was the better option.
Almost the whole physics department rushed to Boulder Dash, the fourth-best wooden rollercoaster in the world according to Amusement Today, to start the day. 
"[Boulder Dash] was super fun. I really enjoyed experiencing the forces. I want to go back," said Sarah Walsh, a junior.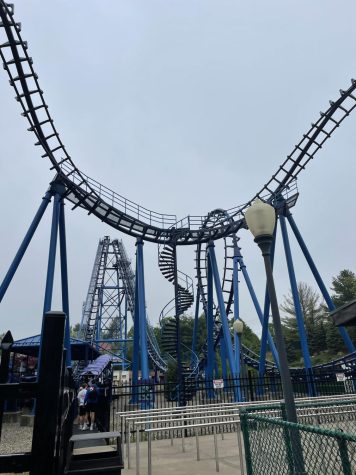 Students learned about positive and negative forces and electrical circuits, gravity, velocity, and momentum. By studying Newton's laws, Kepler's laws, Snell's laws, and Ohm's laws, they were able to process how they were experiencing these principles in action. 
"I thought it was a really good idea to be able to see the physics that we learned about all year in action," said Anna Shupenis, a junior AP Physics student. "It was fun to experience it in person while having fun." 
Pease has been making the trip with his students for nearly 24 years.
"Back in the day, we used to go to Riverside [before it became Six Flags New England], but then [Six Flags], got too expensive so we went to Lake Compounce instead," said Pease. "I still have fun every time."
Students appreciate trips like these as it allows them to learn by doing.
"The classroom isn't the best way I learn things, so going out and seeing it was great," said Ryan Wicklund, a junior and honors physics student. "The bumper cars were so much fun. I loved hitting everyone and liked putting physics into the practical use." 
This staple experience of the physics curriculum couldn't happen for two years due to the COVID situation ravaging theme parks nationwide so for students to be able to go back and experience the thrills, laughs and especially the physics that make these parks so popular. By experiencing the forces on these rides, they are now set up for success and they brace for final exams.