NHS's Drive-Through Lunch for Senior Citizens Another Success
WOODBURY — Many Woodbury senior citizens enjoyed another drive-through luncheon April 22 at Nonnewaug. Senior citizens were asked to drive into the agriscience parking lot to receive their lunches. 
As the students in the culinary room prepped for this event, cookies were made as part of the lunch. 
"It is important to support the nutrition program here. I also like a free meal," says Joe Shupenis, who was accompanied by his wife, Barbra. "We keep coming back to this event because we enjoy getting out and supporting the program."
Whether it is free food or a chance to support NHS, citizens come from surrounding towns to get a box.
"I like supporting them. The kids are great. I graduated from NHS and wish I could be in vo-ag again," says Mary Jane LaBoudy, who also enjoyed the lunch.
Coming Back
Many of the senior citizens who accompanied the culinary students on Friday were not new faces; many of the men and women seen have been present in this event for many years.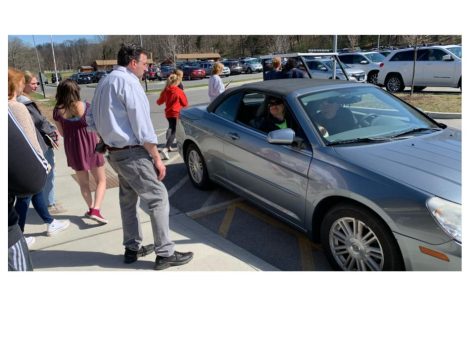 "Five years ago we started coming for the free lunches," says Shupenis.
Like Shupenis, LaBoudy keeps coming back and has been going to this event for around six years. 
"I enjoy it; the food is wonderful and it is all around a great time," said LaBoudy.
Shupenis and LaVoudy are not the only people who love attending this event. 
"I marvel at what they do with the students. Being a retired teacher I really enjoyed this event," said Wendy Dunham, another participant. "The students who do this, I think it is commendable."
Only coming here for two years, Dunham looks forward to coming back for the years to follow. 
"It is important to attend because it is wonderful for public relations," said Dunham.
With all the boxes being cleared out, this event was a success and the students look forward to contributing to this event in the coming years.