NHS's Favorite Librarian Awarded by UConn
WOODBURY — Smiles were shown when Nonnewaug library media specialist Maureen Vint was presented with the Excellence in Library Media Award from University of Connecticut on April 28 in Storrs.
Vint strives to go above and beyond for the students at NHS and many believe she deserves this award. Greeting everyone with a kind hello and a helping hand, Vint shows that she loves what she does and takes pride in it.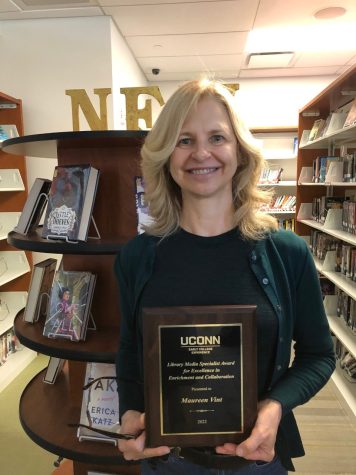 "It is important anytime someone at the school wins an award by an outside entity," says Vint. "It shows our community is supporting learning outside of the district and collaborating with outside organizations."
Vint's responsibilities at NHS are wide-ranging. She's responsible for all operations in the Library Media Center, facilitates student learning through research databases, collaborates with faculty to create opportunities for students, along with a litany of other professional responsibilities. 
"I feel very honored that I was nominated," says Vint.
Vint works closely with Nonnewaug faculty to enrich a wide array of courses from college-prep classes to UConn ECE/AP courses. 
"Being nominated shows that the library and library resources [such as the databases online] are being used and important to teachers and students," Vint said.
Now evolving in her natural habitat, Vint finds new ways to educate the students in a fun and new way. Vint introduced NHS to the LMC online databases, and many students use them constantly for history and English assignments.
"The databases make it easy for me to find more information that is not biased or untrue," said Emma Marques, a junior.
Vint expresses her gratitude for the NHS faculty once more.
"Being nominated was important to me because it was one of my peers," says Vint.