Nonnewaug's Guys Get Creative for Promposals
WOODBURY — The promposal that Nonnewaug junior Jamie Paige received from her boyfriend, Jacob Wells, was everything she wanted it to be.
"Jacob called my sister Kyleigh and told her that he was on his way with a huge poster in his car," Paige said. "She had to keep me in the house when I was supposed to be leaving for a meeting. While I was sitting at the kitchen table, I heard the doorbell ring and when I looked all I could see was his face and (the color) blue. I opened the door and he was standing there with a balloon, tulips — my favorite flowers — and the huge poster which said I was under the height limit to say 'no' to prom. I've always wanted a promposal because I love to see him use his creativity and it was a very special moment."
In the weeks leading up to the June 4 prom, promposals happened frequently. Promposals are a newer way to ask someone to prom in a more formal way. It is almost a given for a girl to assume her boyfriend is going to do a promposal to ask her to prom.
Many girls here at Nonnewaug were asked in spectacular ways from posters to flowers, to even fireworks. These promposals are making parents think, "we didn't do this back in our day."
"I think promposals are awesome. It was a really fun experience for both of us and I tried my best to make it fun. You can't go to prom without a good promposal," said Trey Medonis, a junior at Nonnewaug. 
Medonis' girlfriend, Charlotte D'Alexander, enjoyed his idea.
"I was asked through a scavenger hunt," D'Alexander said. "I was given multiple clues until I made it to the sign that asked me to prom. I thought getting asked would be fun. It gets you excited for the upcoming event. Promposing has started because of how trendy it has gotten and more people are starting to engage in the trend."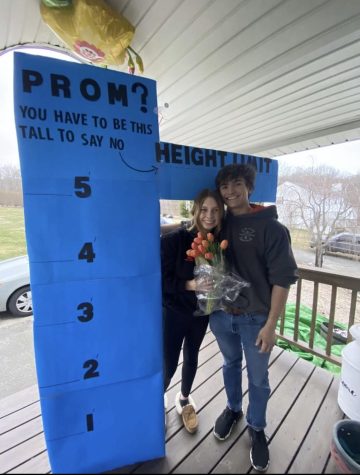 There was a lot of dedication to promposals this year. A whole friend group from the junior class came together to do their promposals together. All of them gathered to come up with their ideas,  make the posters, and do the promposal. 
"My sister outlined mine and my friends' posters for our promposals," said junior Ryan Ponte, who asked his girlfriend, Mallory Tomkalski. "I used a lyric from a Morgan Wallen quote from a song both of us like. I surprised her at the top of the tower with flowers, a cowboy hat, and flowers."
"I was surprised at the end of a hike with my friends to see my boyfriend holding a poster at the top of a tower saying a Morgan Wallen quote asking me to prom," Tomkalski said. "I didn't need a formal promposal, but it was really sweet."
Junior Eli Brochu, who asked his girlfriend, Lux Calo, was also among that group, although he admits that he doesn't see the point of needing a promposal when a couple has already been dating.
"I went all out with my promposal," Brochu said. "We all made the posters together and went to a tower. We sent out a text to the group chat and told them all to meet us at the tower.  I stayed at the bottom of the tower with my poster and flowers and waited for her to get there to set off the fireworks. There was no big surprise I was asking her though. We have been dating for six months and I don't see the reason we have to do a promposal." 
"I was brought through a hike with my friends," Calo said. "When we got to the tower I saw him standing there with a poster lit up saying, 'It would be a blast if you would light up my night … prom?' He cued our friend Matt, where he then set off fireworks." 
Just asking someone to prom is becoming a thing of the past. It is now expected that if you are going with someone you will get a grand gesture asking you. It is up to the guys to decide how grand it will be.