Nonnewaug's Historic Spring Season Nets BL Titles in Baseball, Softball
WOODBURY — As the school year draws to a close, there are numerous moments to look back on, particularly from the spring sports season. Nonnewaug's baseball and softball will be immortalized in the record books and their place in NHS lore displayed on the school's gym banners with their respective Berkshire League championships. 
The Nonnewaug baseball team clinched the BL title May 20 with an 11-1 win over Litchfield, ending a 22-year championship drought. Northwestern had two losses — both to Nonnewaug — and couldn't catch the Chiefs with only one game left on the schedule. 
"It feels great to win coming off some disappointing losses last season," said junior Dylan Chung. "It means so much to everyone because of how hard we all worked for it. It's great to see everyone come together this year."
In the Litchfield game, senior Jason Mauro led the offense with three hits, including a double, added three RBI and scored two runs. Braeden Purser-Eber and Chung each chipped in with a hit and scored twice, while Matt Palumbo, Nick Rose and Brendan Burke all had RBI singles.
During the domination of the Litchfield game, freshman Owen Palmer was the winning pitcher, allowing only three hits while striking out ten opponents. 
Senior Ben Conti had a big day May 17 at Housatonic, throwing a no-hitter with nine strikeouts. He walked one and only one runner reached base on an error. To close the game, he struck out the final two batters.
Conti also had a strong day at the plate, going 5-for-5 with two doubles, three runs scored, a stolen base, and an RBI. Brett Davino singled, doubled, scored twice, and had an RBI, while Chung added a single, double, and four RBI. Purser Eber also had two RBI and a single.
Nonnewaug finished the regular season with a 16-0 shutout win over Thomaston and a disappointing 4-1 loss to Shepaug to spoil the perfect season, entering the state tournament with a 19-1 record. 
"Even though we are BL champions, we are still working towards a state title," said Chung. "Everyone is completely committed to proving everyone wrong in states, and a state title is definitely in reach." 
Nonnewaug will open the Class M tournament May 31 against Weston. The Chiefs are competing in a difficult bracket this year, but that is not stopping them from achieving their goal of a state title.
Softball Secures First BL Title Since 2007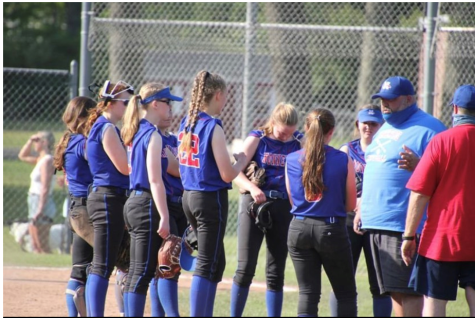 The Nonnewaug softball team also clinched the BL title last week. Nonnewaug and Shepaug made their final regular-season game a classic on May 25 at NHS. 
Nonnewaug broke through for the game's only score in the sixth inning of a 1-0 win, pulling the Chiefs (18-2 overall, 13-1 BL) into a BL co-championship with Northwestern.
"Alyssa [DeMarest] saved us a few times," said Madelynn Orosz, a junior pitcher. "She had some key catches that preserved the lead in a pitcher's duel." 
Alyssa Calabrese and Sarah Cipriani hit back-to-back two-out singles to win the game in a contest with only seven total hits.
This game featured a pair of aces who had nearly identical performances. To begin the game, Shepaug's Amelia Jacob struck out six Chiefs in a row. Orosz started the game by giving up a lead-off triple to Marissa Perachi, but Orosz didn't allow another hit until the top of the sixth inning on her way to matching Jacob's eight strikeouts and no walks.
As a result, Nonnewaug coach Chris Martin and Shepaug's Heidi Johnson's gambling instincts were piqued after three painful innings on both sides.
In the bottom of the fourth inning, Cipriani ripped a double to left field for Nonnewaug's first hit. With little chance of getting another hit against Jacob in the inning, Cipriani advanced to third base on a steal sign before failing to steal home.
The Spartans finished 13-5 overall, third in the league with a 10-4 BL record.
The Chiefs earned the No. 5 seed in the Class M tournament. After enjoying a first-round bye, they will host a second-round game June 1 against Watertown or Sacred Heart Academy.
Nonnewaug's hard work paid off, since both programs were able to achieve their BL championship goals. They haven't slowed down yet, however. Both of these terrific teams are working hard to attain their objective of a state title, and both are capable of doing so. It is up to them whether they desire it more than anyone else, and only time will tell how things turn out. It's been a historic 2022 school year that will be remembered with banners that will hang for years to come.