Only At Nonnewaug: Kiss A Pig For a Cause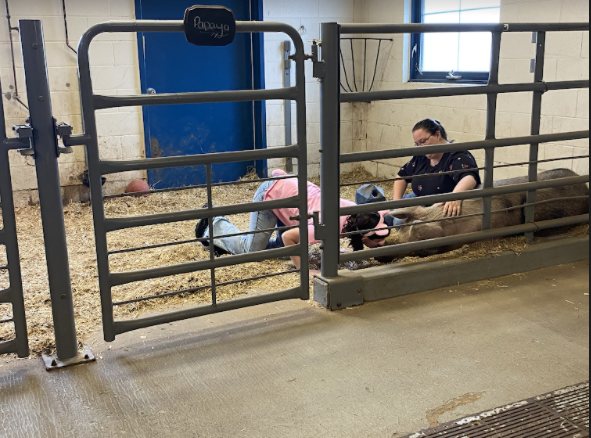 WOODBURY — Have you ever seen your teacher kiss a pig? Bet students at most schools have never heard that one before. From April 25-29, students could make donations by placing money in a teacher's jar. The teachers in the running were Jamie Lisevick, Ben Guerette, Toby Denman, Tyler Cremeans and Maura White. 
Cremeans was all for kissing the pig May 2 if he were to win.
"I am happy to support students' fundraising efforts, and if that means kiss a pig, I am happy to do it," Cremeans said.
The excitement radiated throughout all the candidates.   
"Obviously I would prefer not to have to, but if that is what the audience deems as necessary, then I will do it — and I will do it to the best of my ability," Denman said. "If I don't win, for entertainment purposes, I would like to see Ms. White have to do it."
The support coming from these teachers was impeccable despite what they may have had to endure.  
Lisevick was the lucky teacher, who earned the most money for the class of 2025 and in return had the opportunity to kiss the pig.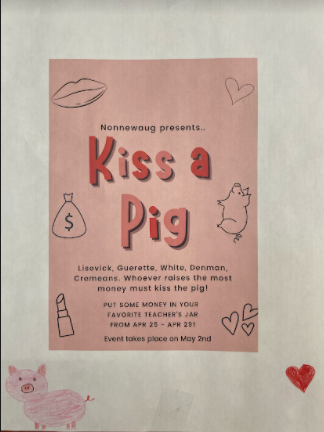 Lisevick showed up to Nonnewaug's large animal lab dressed for the occasion in a pig costume with hopes of making the pig feel more "comfortable," she said. Attendees could feel Lisevick's excitement as she knelt down to plant the kiss. 
Lisevick jumped back after she quickly kissed the pig on the nose, yet it's the thought that counts. 
"I'm gonna go brush my teeth now," Lisevick said.
View this post on Instagram