Pape: Dream School or More Affordable School?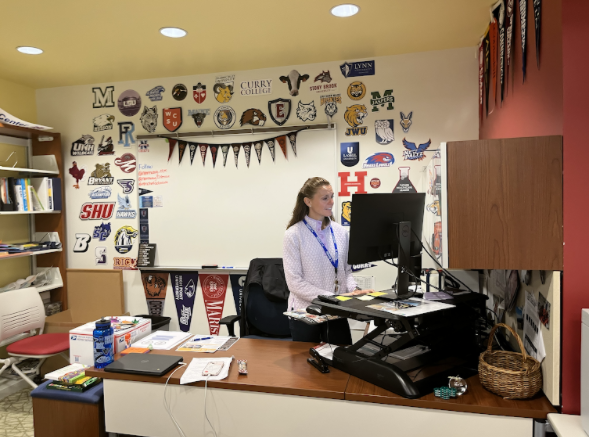 WOODBURY — "The college name doesn't make you; it's what you make of the college," said Adeline Angelini, senior at Nonnewaug. 
Deciding what college to go to or any post-secondary school plan is a difficult and overwhelming process. 
"A lot of students are making financially responsible decisions when it comes to where they are going, and it may not be the prestigious brand name college, but it offers what they want and it is a good school," said Kathy Green, College and Career Resource Center counselor at NHS. "At the end of the day it is up to the individual and their families."
Picking between colleges is a monumental decision in life, especially at such a young age. There are a lot of factors that go into this decision. Cost and what you truly want go hand to hand in this process. Many times they cross over each other, so which do you decide? Do you pick what's more affordable or your "dream" school?
Seniors find themselves facing a difficult choice. While some think they should worry about the money later, others consider money the biggest deciding factor on where they go.  
"For me, cost was a big factor in my decision. Unfortunately, the  school I fell in love with and wanted to go to was too expensive, so I decided to go to my second option which I also love, maybe not as much," said Angelini. "When it comes to financial aid, I rather come out with little debt than a tremendous amount." 
The Class of 2023 is just around the corner from having to start thinking about their post-secondary plans. 
"Make sure to set your limits with what you can afford, and how far you're willing to go before you start looking for colleges or else you might find yourself falling in love with a college that you may not be able to afford or is too far. Because that feeling is not fun," Angelini said to rising seniors. 
"Our students here are really mindful of cost, and I am really impressed with students considering that as a major decision making factor," said Green. "With that being said, students should consider it because it can affect their life after school and their ability to be financially independent."
"While going through this process with students, I show them how much debt they are going to have to pay back, we will look at average salaries for what they want to go into, and go through the whole process to really show them a visual of the effect of different after high school plans. It is really their decision at the end of the day," said Green. 
Jaime Paige, junior at NHS , is already considering the financial aspect.
"Money is a huge factor in my decision," Paige said. "There are a lot of colleges that have the programs I want and schools that I like, but are too expensive. I will rely on scholarships to help me financially."
Stress is on the rise, but with help from counselors, family or people who have gone through it the process becomes easier.