Budding Local Business: Faraci Woodworks the New Best Thing in Town
BETHLEHEM –"Ben [Faraci] is a kind, well-spoken, and considerate person," said Nonnewaug junior Eli Brochu. "I enjoyed playing soccer and basketball for the Nonnewaug with him for the last couple of years and building up a friendship. I think it's really impressive that he made a business from nothing and potentially a lifetime career in high school."
Faraci had a humble upbringing growing up in the small town of Bethlehem. He grew up with a sister one year older than him. Faraci is a family man.
"I value spending time with friends and family the most, but I also focus on self-improvement and being the best version of myself," said Faraci.
Faraci recently started his business called Faraci Woodworks in which he makes wooden flags, cutting boards, and animal statues all from scratch out of raw material and sells them to locals. 
The towns of Woodbury and Bethlehem has gone above and beyond supporting his business.
"I have sold over 100 flags now and I'm just slowly raising the prices because of the extremely high demand," Faraci said. "It takes me around an hour to make one."
Faraci's flags and cutting boards cost $65 for a small flag or cutting board and $125 for a large flag. He gives $25 discounts to friends and veterans.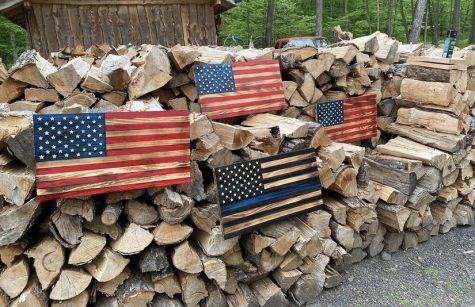 When he first started, the flags and cutting boards only cost $50 for a small one and $100 for a large one, but he raised the prices with the increasing demand.
Faraci started this business about four months ago, and in just that short amount of time, he has gone from a couple of sales to selling more than he can make. 
From the beginning, he started off advertising by posting on Facebook, but after he got some sales, it spread quickly throughout the towns through word of mouth. Faraci has sold his amazing woodwork as far as Colorado. 
"Building this business taught me a plethora of things," Faraci said. "I had to learn how to make things like my logo and get it transferred to stickers and a brander. I also took a lot of time figuring out the right ingredients and ratios to make my cutting board wax. It took a lot of learning and experimenting to put the knowledge into action."
"He started working with my grandfather, who would make bears out of wood and a chainsaw," said his sister, Reilly Faraci. "My grandma is also really into art so he combined those two and made his own thing. I'm super proud and impressed with what he has done. He has created a thriving business."
Ben makes an impression on everyone he meets and interacts with the community.
"Ben's a good guy, works hard, always looking to do his best in whatever situation he finds himself in, and does it the right way," says Nonnewaug science teacher Toby Denman, who is also Faraci's soccer coach.
Along with being liked by the community for his sparkling personality, Faraci has a big heart and enjoys doing services for the community. 
"I give a good amount of them away to veterans for free," Faraci said. "Also, one of my big customers is the Munson-Lovetere Funeral Home, who gives them to the family of deceased veterans."
To support Ben and his business, check out his Instagram (@faraci.woodworks).