Dynamic Duo: Pagnamenta and Baker Put NHS Doubles on the Map
WOODBURY — Sofia Pagnamenta and Marley Baker, the perfect doubles combination, clinched the Berkshire League doubles championship once again May 23. The dynamic duo began playing together just last year and have been dominant ever since. 
Last year, the two helped bring Nonnewaug home the BL girls tennis title as well as the BL doubles crown, but their journey to the top ended in the state tournament. 
This year, the two were equally unstoppable and reached the state tournament again. The past two years, the two enjoyed great success and credit that to their friendship on and off the court. 
"Being really good friends makes it so easy to communicate on the court. There's this kind of understanding we have between each other," said Baker. "It also is super helpful because there's no blame put on each other when mistakes are made."
Their connection on and off the court isn't just noticeable to them. 
"They aren't afraid to give each other feedback on the court. They keep things light and aren't afraid to make mistakes as well," said Chris York, the girls tennis coach. "I think their friendship really helps them on the court as a team." 
The two both play soccer together and are just simply natural-born athletes.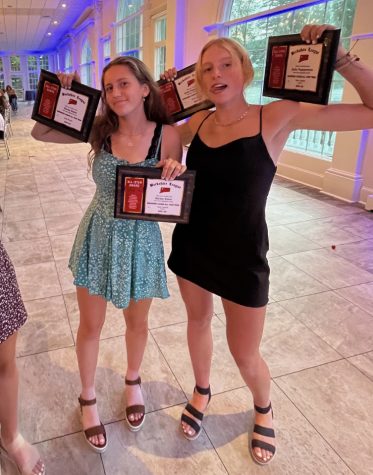 "Their athleticism, hands at the net, court coverage and communication have really set them apart," said York. 
Nonnewaug's doubles teams haven't always been this good. Baker and Pagnamenta have helped put Nonnewaugs girls tennis doubles teams on the map. 
"The first time I realized that some coaches put some of their better players at doubles was in the 2016 state tournament," said York. "We were playing Guilford and they clearly had some of their top players at doubles. We barely won any games that day at doubles." 
Placing some of the top players at doubles together takes pressure off some of the singles players, said York. 
In 2018, Nonnewaug had a very good doubles team that also won the BL title. That doubles team then went on to play the No. 1 state doubles team from Stamford. 
"Last year was really the first year that we had the depth to put some of our best players at doubles," said York. "Last year and this year combined we are 82-2 at doubles in league matches. It tells other teams that if they want to beat us, they need to win every singles match."
The decision to keep Baker and Pagnamenta together this year was easy, as it was Nonnewaug's best opportunity to win the BL and win state tournament games.