Senior Athletes' High School Chapter Comes to a Close
WOODBURY — Nonnewaug seniors prepare their goodbyes as their senior year and high school experience soon comes to a close, but the school aspects aren't the only things seniors have to bid farewell to.
For athletes, their high school sports experience has come to a close. So many seniors grew up playing their sport with their teammates. 
The baseball team's three senior captains, Brendan Burke, Ben Conti and Jason Mauro, have played together since they started playing baseball at the age of 5.
For Burke, saying goodbye to people he's played with since Little League isn't easy, especially after winning the Berkshire League championship.
"I'm definitely gonna miss my other senior teammates, not just them but everyone. I played baseball with these brothers for pretty much all my life," said Burke. "Definitely having my parents and grandparents come to my games I'll miss, and just playing the game." 
The girls tennis team, who clinched the Berkshire League title once again, is graduating six valuable seniors: Marley Baker, Melissa Barbino, Eva Dos Santos, Ella Lupo, Sofia Pagnamenta and Yase Tyles. 
Baker and Pagnamenta won the BL doubles title for the second year in a row and went undefeated in the BL since they began playing doubles together last year.  
The boys tennis team is graduating one senior, Jeff Stein, who was part of the Chiefs' No. 1 doubles duo. 
Softball also shared a BL title, but the team also has seniors who will be greatly missed next season. After the pandemic canceled the 2020 season, the current juniors' time with the seniors was cut short by one year. However, many juniors were still able to create a great bond with the upperclassmen. 
"Playing with the seniors these past two years has been such a great time," junior Allysa Calabrese said. "All four of them brought out the best in all of us and each of them pushed us to become the best versions of ourselves on and off the field."
Softball will graduate four seniors, including Alyssa DeMarest, Brianna Hynds, Julia Lawlor and Chloe Pagnamenta. 
NHS girls track had a successful season, clinching the BL title. The Chiefs will graduate six seniors: Lexie Bernardi, Paige Brandt, Erin Classey, Sami Faull, Tarin Keller, and Elizabeth King.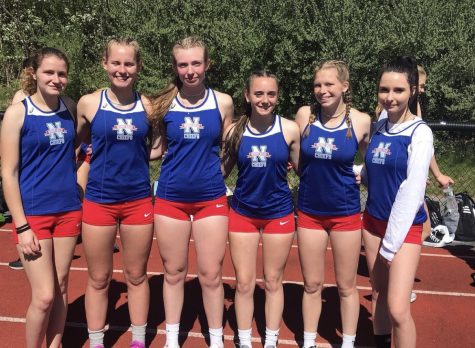 Boys track placed second in the league and will graduate six seniors: Emilio Calvano, Brandon Ciarlo, Daniel Jaffin, Christo Jamo,  Charles Rickenbach, and John Snabaitis.