Class of 2023 Rises with Sun for Senior Sunrise
WOODBURY – Ever thought about watching the sunrise but never had a reason to be up? Seniors of Nonnewaug High took part in the Senior Sunrise on Sept. 1. Class officers announced on social media to seniors to show up by 6 a.m. at the Roxbury Airfield to see the sun come out of hiding.
Seniors agreed that this turned out to be a great time.
"There was a lightsaber battle, many pictures were taken and Dunkin' was eaten," said Leah Quijano, a senior at NHS.
"People took pictures and ate breakfast," said Allysa Calabrese, a senior. "Some people brought chairs to sit in."
Waking up early in the morning for school is something that every high school student dreads; however, NHS seniors were present and ready to show up for each other.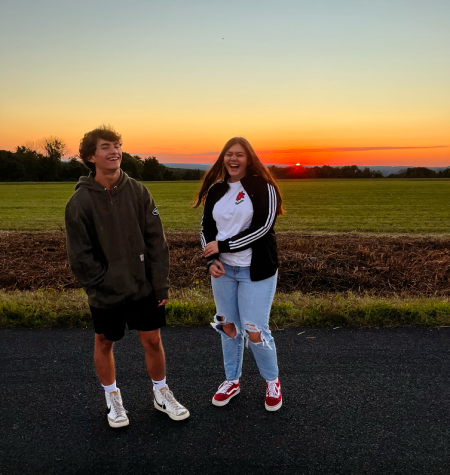 "I got there around 5:50," says Quijano. "I think it was a really fun and nice way to start senior year."
More than 50 seniors attended.
"Lots of people showed up and posted pictures on social media," said Calabrese
Most seniors who attended took pictures of the beautiful sunset whether they were standing in front of it or not.
"Everyone just talked to each other because we haven't seen each other all summer," said Quijano.
Making a successful outing might mean different things to everyone, to Calabrese a good turnout and good publicity is an event that's all right.
"It was talked about before and after the event took place," said Calabrese.