Club Fair Highlights Activities for Underclassmen
WOODBURY – The new school year brings new activities, clubs, sports, and more. Freshmen have yet to discover all of their options for after-school programs this year. With the Club Fair on Sept. 28, teachers and club members encouraged students to have an open mind and to join as many things as possible.
The Club Fair is held in the gymnasium for freshmen and sophomores at the beginning of every school year. Representatives from each club and sport attend with a presentation of their activity.
Jamie Lisevick, a Nonnewaug math teacher, is one of the advisors for the Class Council of 2025. Class Councils help plan things for each individual grade, such as class rings, proms, and field trips. 
Lisevick is a strong believer in getting as involved in many clubs.
"Join as many as you can join. You can join without feeling overwhelmed. It's an awesome experience to get involved," she remarked. "You get to have input and your voice gets heard."
The Class Council meetings for freshmen and sophomores are every Monday starting at 2:15. 
Class Council is a great way to get experience in talking with other people and becoming a true leader.
"It's not only a great learning experience, but also helps build your resume for your future career," Lisevick added. "You get to meet new people, and I think that's the best part of high school, is the friends that you meet and the activities you enjoy."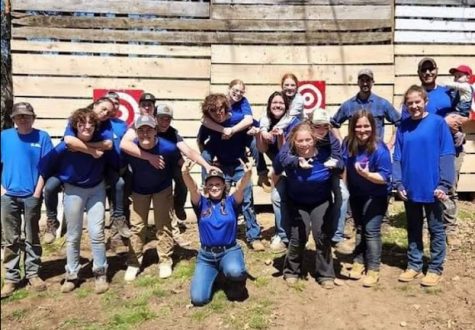 With many changes in the agricultural program, there is another club that is new to everyone, not just the freshmen – the Woodbury FFA Timber Team. 
It has been changed to be an official club, and many FFA members are very excited about this, including NHS sophomore Maya Hines. She has been a timber team member since her freshman year.
"I think that the timber team is really great. It helps you get your anger out and helps you bond and connect with people," Hines said.
The timber team includes cutting and using saws with wood. There are many different activities you can do, whether that be in groups or pairs. The team travels around the state at local fairs to compete with other agricultural schools. It is very competitive, but helps build teamwork and fun nonetheless.
Another club that is a part of the agricultural program is the FFA Quiz Bowl, which is only open to freshmen. This program is when students recall the FFA's most known facts in a competitive game against other agriculture schools. 
Liam Sandor, a sophomore, was a part of the team last year and has had an amazing experience.
"In simple terms, Quiz Bowl is a team-based trivia on facts about the FFA," Sandor stated. "My experience was and is great. I love my teammates and my advisor couldn't be better."
Students have advice for new Chiefs.
"Find something you really enjoy and stick to that," said Hines. 
"Do it! Clubs are a great way to find new friends and discover new interests." Sandor added. "You feel a part of a community and who doesn't love that."
Overall, there are many clubs and opportunities available for freshmen to join, and it is encouraged for all NHS students to join as many things that they can.