Dzis Brings BL Basketball to Life with Video Game Simulations
Cody Dzis, Berkshire League basketball guru, brings BL basketball to life with his new addition, never-before-seen BLB2K22. Dzis' creation premiered on Twitch on Sept. 12. 
The video game series of sports simulation, 2K Sports, was created in 1999. The popularity of 2K quickly grew in correlation with the NBA. 2K is a video game which emulates professional sports teams and allows players to select professional players onto their team. NBA 2K, allows users to select six players: five starters and a sixth man. The BLB2K allows the same thing, except instead of professional players, Dzis picked from Berkshire League basketball players. 
Diaz, the Northwest Regional High alumnus who runs the BL Rundown account on Instagram, created this game as an attempt to promote BL basketball players during the offseason. 
"I was trying to think of a creative way to not only showcase the Berkshire League basketball athletes before the season starts in December, but also create content for all the Rundown's followers," said Dzis.
NBA 2K's popularity inspired Dzis' idea, and soon that idea transformed into his creation of BLB2K22. He proposed the idea on Instagram on Aug. 9. 
"In total, I believe I spent about two or three weeks creating two leagues together. I was working in-between working part-time and recently starting community college, which come before the BL 2K leagues due to both circumstances providing for my future and family," said Dzis. 
His original idea included customizing each individual player from every BL team for both girls and boys, but the software had other plans. Dzis ran into trouble customizing the girls league. 
"I tried every possible way to create the most accurate form of the BL, but 2K limited the creator mode for women's basketball so much that I was unable to provide accurate player models, team designs, and realistic gameplay besides minutes for players," said Dzis. 
Dzis worked around this issue and matched every player with a WNBA player. He made them as realistic as possible. 
"I mostly wanted to give the most accurate showing of realistic player models, team designs, and live gameplay compared to the real Berkshire League that we were looking forward to seeing this winter," said Dzis.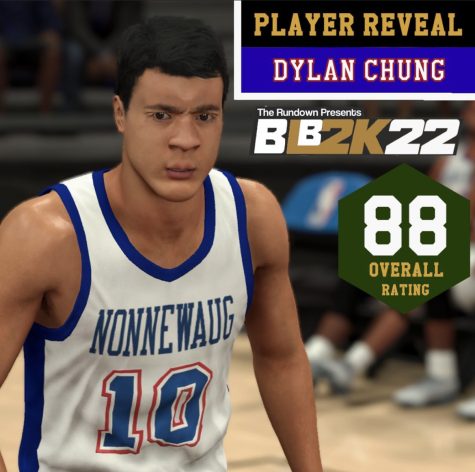 Dylan Chung was the first Nonnewaug player to be shown and was ranked 88 overall. 
"I didn't know how it would turn out, but once I saw that he was making players' uniforms and courts, I was amazed," said Chung. 
Dzis shocked many people with his specific designs and creations. He spent a lot of time customizing everyone and even checked in with people to make sure they looked good before publishing them. 
"When I first saw myself I actually kind of laughed. Cody sent me a picture of his first experimental trial with me and it looked kinda funky," said Chung. "He ended up changing it and it looked a lot better."
Chung was highlighted in the first BL2K22 game with 16 points and 21 rebounds. The game emulates real-life BL play. Dzis customized each individual player to be equipped with their specific basketball skills and strengths.