Hidden Gems: NHS Offers Wide Range of Clubs to Students
WOODBURY – The opportunities are endless for NHS students looking to get involved beyond the classroom. Currently there are dozens of clubs that offer unique opportunities for students to explore new interests and skills.
An in-school club fair in the cafeteria occurred on September 28 where freshmen and sophomores learned about all the after-school programs available. The club fair's main purpose is to allow students and especially newer students to have some free time to see all the clubs offered at NHS. Nonnewaug offers a wide variety of clubs from outdoor activities to advanced activities.
David Green, a leader of the Fitness Club, recommends that students join the club.
"It's good for students to get actively involved in fitness, mainly it helps them change the way they look and feel which is proven to be beneficial for students," Green said.
The club is after school from 2:15 to 3:30 weekdays except Wednesda. In this club you will learn the proper techniques to build muscle, getting stronger and living a healthier lifestyle.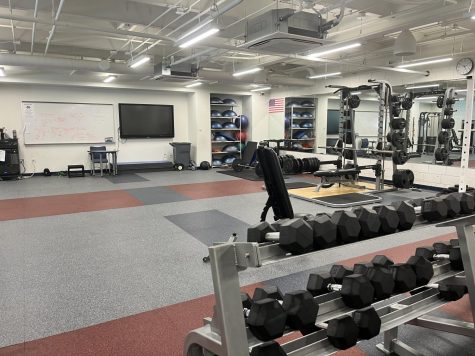 While building muscle is good, other clubs such as SAT Language Arts and the Robotics Club offer a chance to build upon your mental muscle.
William Pease, the Robotics Club Advisor noted, the Robotics Club is a "great chance to learn how to make things and do some programming."
In the club students will learn how to use hand and power tools, learning computer-aided design (CAD) and how to program the robot (coding), and other extra activities. Usually the Robotics Club starts building robots throughout the fall and enters into three competitions around January and February. 
Pease also mentioned that "lots of scholarships are available for people involved with robotics." Scholarships are very important for students who are looking to go to college.
Also, for students who plan to go to college, they may want to consider joining or going to SAT Language Arts and SAT Math. These two individual clubs are about preparing students to take the Math and English portion of the SAT. Lots of colleges require students to have a certain minimum score to join so NHS' offering of a free opportunity to practice the SAT is a vital offering for many students.
Next, let's take a swing at the newly made golf team, coached by Ryan Camp. Some students may overlook this club but to some it could spark a new interest. The club allows students to practice their golf skills and compete in games. The club takes place after school four days a week in Crestbrook in Watertown.
There are a lot of opportunities within the clubs at Nonnewaug Highschool that can come along with a lot of great benefits ranging from scholarships, making new friends and developing new hobbies.