Soccer, Football Wins Highlight Start of School Year
WOODBURY — As students transition back into school and as the leaves begin to slowly fall off the trees at Nonnewaug High School, only one thing comes to mind for some: fall sports. Soccer and football are among the highlights of the start of the year with a couple of opening day thrillers. 
Chiefs Seek Repeat in Boys Soccer 
The boys soccer team is eager to begin another historic season with a Berkshire League repeat.
With just 13 games remaining in last year's 16-game regular season, the boys soccer team won the BL title with a 2-1 victory against Shepaug on Oct. 22, 2021. Nonnewaug created school history and headlines around the state by winning its title-clinching game and securing the top seed in the Class M state tournament.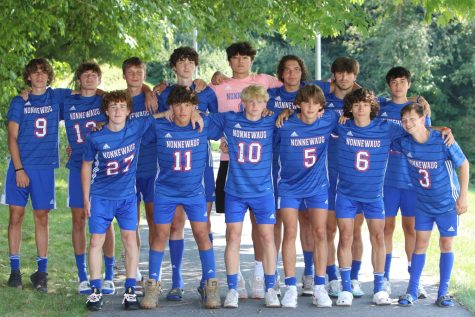 The desire to repeat fueled offseason practices entering this year.
"Preparation began in the summer with countless captains' practices and playing in summer league to help us develop as a team," said senior captain Brett Davino. "But what makes us special is that we have 14 seniors coming into this season, and over 20 of us have been playing together since we were in elementary school. We build and learn off each other."
The Chiefsf won three tense season-opening games — 6-1 over Thomaston, 3-0 over Wamogo, and 1-0 over Terryville — and everyone appears eager and motivated to put in a lot of effort throughout this season.
"Our goals this year are to take the Berkshire League title for the fourth consecutive year and go on to make a run at states," said Davino. "Coach [Toby] Denman and the rest of the team believe it's a realistic goal to go for the state title. With talent and hard work at practice, who knows how far we can make it."
Unfortunately, the team has dealt with a variety of problems already, such as injuries and illnesses. Due to these persistent issues, the squad will need other players to step up this year since starting goalie Dylan Chung will be absent for the majority of the season with a hip injury, and Davino will miss substantial time with an ankle injury. Perseverance and diligence will undoubtedly be characterized by this season.
Girls Want Another Title on Pitch, Too
The Nonnewaug boys aren't the only ones hungry for a Berkshire League repeat. 
In order to win the BL championship last year for the first time since 2016, Nonnewaug girls soccer defeated Litchfield, 4-0, in the 14th of 16 games last season. The Chiefs were successful in retaining their position as the top seed in Class M. Prior to their 3-1 loss to Lewis Mills in the Class M second round on Nov. 10, Nonnewaug had only suffered one loss in the regular season.
The girls won their opening matches against Thomaston (2-1), Wamogo (7-0), and Terryville (3-0). Those victories could provide all the drive for the girls — led by seniors Mallory Tomkalski, Charlotte D'Alexander, Lauren Pabst, Carley Shook, and Sam Conti — to make another memorable year.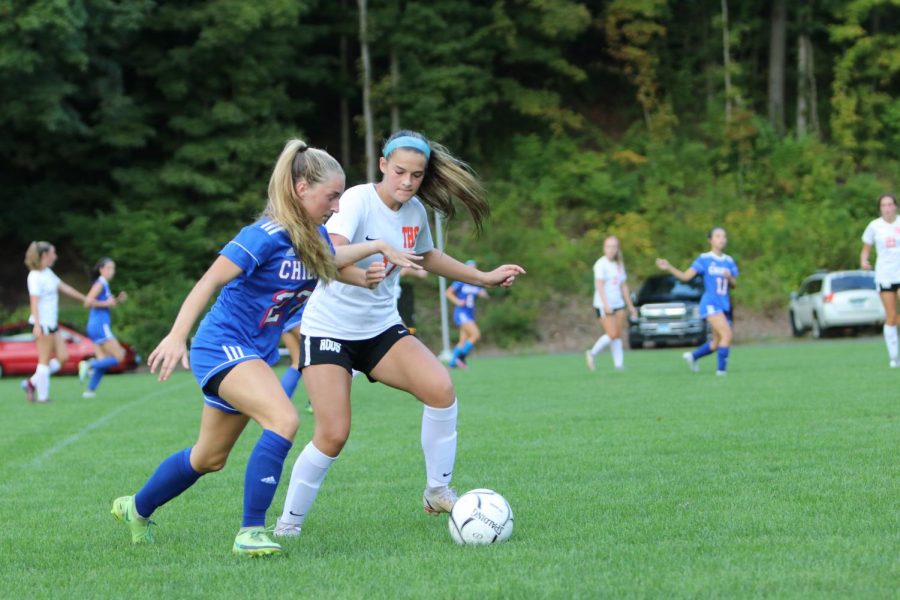 Friday Night Lights 
The season got off to an exciting start for the Northwest United football team, which includes Nonnewaug and four other schools. Players rallied behind junior quarterback Ben Roden in a 52-16 win against Vinal Tech-Goodwin Tech on Sept. 9. It was the perfect season opening for the start of a new season. 
"It was great to see everybody play so well together in the season opener," said senior defensive end Mahro Mandible. "I think that with all of the talent we have this year, we can definitely make a run to win the league and possibly much more than that." 
Fortunately for Northwest United, some of their talent is returning this year. Tyler Baillargeon and Jacob Bourgoin had the most tackles last year, and Bourgoin averaged over 6 yards per carry. Given that Roden, who played wide receiver last year, is switching to quarterback, there is just one regular receiver back: R.J. Barksdale, a sophomore. Also returning are three offensive linemen.
Roden was named the Connecticut High School Coaches Association Week 1 Player of the Week for his effort in the opening-night win. He tossed for 207 yards with four touchdowns and three two-point conversions.
There is a ton of potential for this young and fun football team, and it will be interesting to see how things turn out in the future.
View this post on Instagram