Students Take on Timber Sports Professionals at Bethlehem Fair
BETHLEHEM — The first competition night was complete, but the timber games weren't done yet.
On Sept. 9, the annual adult lumberjack competition took place at the Bethlehem Fairgrounds. Many lumberjacks from around the state and country come to this event every year to compete, some of them even holding national records for some of these events. Although these are national champions, these aren't the only competitors you'll find.
Woodbury FFA Timber team coach Andrew Zielinski entered the competition to show his skills.
"​I felt pretty good going into the competition, having worked with Eric Piazza, one of the Woodbury FFA Timber Team coaches, during the week on the underhand chop," Zielinski said. "I was probably most nervous about bow saw, since that is an event I had not done competitively in probably seven years or so."
Many coaches from the high school competitions tend to come back and compete themselves, along with some students they may call back. As it is an adult competition, some high school students come back to compete with their coaches. 
"Mr. Masi said, 'Are you guys coming tomorrow?' and my sister and I looked at each other confused. We had no clue what tomorrow was," said Jocelyn Jacques, a student competitor and member of the Wamogo High School Timber Team. "After we got told that it was the pros, we were so excited that we as high schoolers were able to compete against the adults!"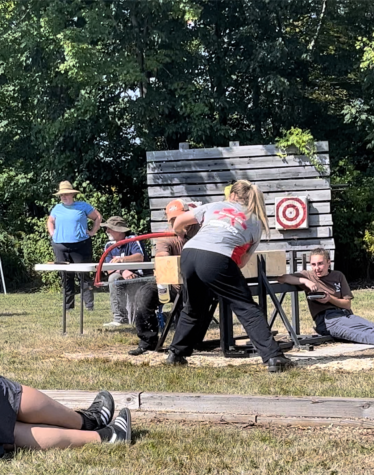 For some of the student competitors, this is a first-time experience. This gives them the first opportunity to not only compete with individuals that are a few years older than them, but also the opportunity to improve their times and scores and watch different events that they might be able to compete in when they graduate. 
"I was excited [to compete] because I knew I was going to be able to watch events that I have never seen before and look at how the adults compete to improve myself," said Nathan Hayes, a sophomore member of the Woodbury FFA Timber Team. "I felt that it would be fun to be able to compete with the adults and I was really excited to compete and be competing with the coaches."
When competitors first arrive at the competition, they are required to sign up at a booth for the events they wish to compete in. Some of these events differ from high school competitions. In these events, only competitors ages 18 and older can participate. The events that take place at every competition are bow saw, crosscut, log roll, pulp toss, and axe throwing.
The bow saw event is a one-person sawing event where you compete for the fastest time. The crosscut event can be competed as jack and jill (boy and girl), jill and jill (girl and girl), or jack and jack (boy and boy), and is a two-person sawing event also competing based on the fastest times. The log roll event is another two-man event where there is a log on two rails and the competitors are required to roll the log with peaveys to one side of the rails and back to the start. 
Axe throw is a one-man event that every competitor participates in, where the individual throws a double-bladed axe at a target that can get you up to five points in one throw. You get to throw the axe three times, depending on the target, you can get up to 15-18 points overall. Pulp toss is a high school event that's not generally competed with adults, in whiic four competitors throw logs back and forth aiming to land them in between two poles. They throw until they reach 21 points total; one log in between the poles equals one point.
The additional events for adults consist of the underhand chop, and the disc chop, which occurred for fun. At other adult competitions, there can be another event added, which is known as the springboard chop. 
The underhand chop event is a one-man event where the competitor stands on a square log that's on rails with their feet apart. They then use an axe and chop the wood that's in between their feet. The goal is to break the log they're standing on into two separate pieces. 
These events are great moments to expose the high school competitors to the world of adult timber sports and allow them to gain an edge at their high school competitions and create a foundation for a long and successful career.