The Impact of Ellis Clark on FFA Members: 100+2 Years of Agricultural Education
WOODBURY — When you think of the NHS agriscience program, what comes to mind? Perhaps the full name of the program? The Ellis Clark Regional Agriscience and Technology program was started by Ellis Clark at Woodbury High School in 1920. From a small class of 11 boys that wanted to help their parents out on their family farms, the program has grown to more than 350 students that want to pursue different careers in agriculture. 
Ellis Clark, the man the program was named after, was the first teacher and director of his kind in Connecticut. He started the vocational agriscience program out of the building that is now known as Mitchell Elementary School. He taught the small class of boys skills such as welding, woodworking, tractor maintenance, and other skills useful for helping out on the farm. 
As the years went on, more teachers and classes were added. The program now offers aquaculture, greenhouse plant production, livestock production and management, equine science, veterinary science, natural resources and management, landscaping, and mechanics classes.
Alongside the classes, students also gain real-world experience by working at their SAE (Supervised Agricultural Experience), competing in CDEs and LDEs (Career/Leadership Development Events), as well as numerous community service opportunities and other activities that teach vital life skills. 
"The Woodbury FFA has provided me countless opportunities to gain communication skills, time management skills, and enhance my critical thinking," said Leanne Golembeski, NHS aquaculture teacher. "Without the program, I wouldn't be where I am today." 
"After only a year in the program, I've experienced all my hopes and dreams I could have ever imagined and more. I hope in the next three years I can continue gaining important skills that we are taught in this program," said Sam Kostka, sophomore block reporter. 
Newer students feel a bit overwhelmed by all the knowledge they are taught in the first year of the program. Over the four years, they hone and develop their skills to leave the program as a well-educated young adult in the field of agriculture.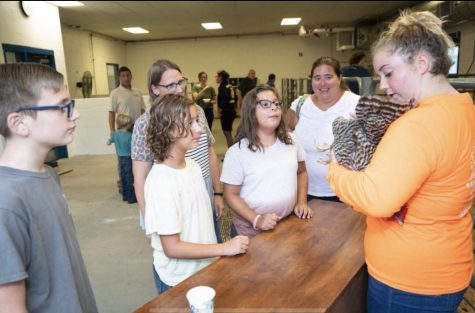 "Over a century of agricultural education in our community has helped create a culture ripe with gratitude for the natural world and those who cultivate it, our agriculturalists," said Sandi Fitzpatrick, Ellis Clark 100+2 celebration co-chair.
Fitzpatrick said she's thankful for what the program has done for her since graduating in 2006. 
"The skills and understanding I developed over my four years in the program have proven to be extremely valuable over the last two decades," she added.
Fitzpatrick served as the chapter president her junior year and competed in parliamentary procedure and ag communications, placing gold in the National FFA competitions.
Kostka is the third child in her family to attend the program at Nonnewaug, along with numerous cousins.
"As someone who is a part of a family that had a whole generation go through the ag program and was deeply involved in the FFA, I feel a responsibility to help others understand and join the program," Kostka added. 
As generations go through the program, some feel enlightened to come back to teach what inspired them. 
"My love for agriculture has been enhanced because of the opportunities given to me by the Woodbury FFA," said Golembeski. "This place is home, and it's only right for me to come back and give my all to something that gave me everything and more!" 
She graduated from the program in 2015 and in college studied marine affairs after taking the new aquaculture class that was established during her time at Nonnewaug. 
Some students come back to teach, some go on to own businesses, some work in the industry, and some don't continue under the agricultural line of work. No matter what graduates from the Ellis Clark Regional Agriscience Program do, they leave with the skills, experiences, knowledge, and connections to succeed in their future endeavors. 
The impact on the lives that have gone through the program is evident across many industries, from construction to politics, and everything in between. 
 "This deep-seated appreciation has been instilled in thousands of students who have dispersed across our state, country, and world," Fitzpatrick said. "This program has been and still is a meaningful force for good."