A Captain's Road to Recovery
WOODBURY — The worst thing that can happen to an athlete is getting injured towards the end of their career or while in their prime. For some athletes these injuries could mean the very end. To others, these setbacks could be a blessing in disguise.
For Madison Dannenhoffer, what happened was a learning curve and a lesson. 
On August 1, just a month before the first day of senior year, Dannenhoffer got into a car accident while driving home from work. Little did she know what life had just thrown at her.
"I never thought something like this would happen," said Dannenhoffer, "but to me, everything happens for a reason and the lessons I have learned throughout recovery have changed who I am and how I see the world – lessons that will stay with me for the rest of my life."  
Dannenhoffer suffered a fragmented ankle, fractured hip, minor concussion, bruised lung, fractured sternum and two breaks in each tibia and fibula in her left leg. 
In times like these, the world feels like it's falling apart. For an athlete like Dannenhoffer, knowing your next move can be beyond difficult. Your world is quiet, but so loud at the same time. 
While the incident was nearly three months ago, the memories are still fresh for Dannenhoffer. Firefighters removed her out of the flipped-over car, and from there, EMS transported her to a local hospital to be evaluated and to have surgery soon after. 
"Though I don't remember much from the night I got to the hospital, I do remember getting rushed into trauma at Saint Mary's Hospital," Dannenhoffer said. "About 15-20 doctors, nurses, and EMTs surrounded me, asking questions, examining my body, and cleaning wounds." 
Dannenhoffer was at Saint Mary's for a few hours until she was transported to Connecticut Children's Medical Center, where they prepared for surgery. She spent the next six days there. 
After the surgery, the doctors, nurses and hospital staff were eager to get Dannenhoffer up and moving right away. Her physical therapy started right there in the hospital up until she was discharged. From there, the PT came to her house, and soon enough she was able to travel to a physical therapy center. 
"I know two steps doesn't seem like a lot, but without being able to put pressure on my left leg without screaming, a different way had to be found," Dannenhoffer explained. "I went from my wheelchair, to a bench, to a step, to the next, and then onto the bench again, and back into the wheelchair."
In just 10 weeks, she has accomplished so much. She's relearned how to walk, ride a bike, climb stairs, and leg press 140 pounds.
Two Steps at a Time While Roaming the Sideline
When school started Sept. 1 – about a week after field hockey practice began – Dannenhoffer was still in a wheelchair. By late August, she was cleared to use crutches, but she won't be cleared for physical activity for several more months which means Dannenhoffer will miss her senior season of field hockey. 
"My friends and family have truly enabled me to keep going through my recovery," Dannenhoffer said. "Along with my determination to get better, I would not have been able to get as far as I am without the help of my community." 
Even though she hasn't been able to play her senior year, she continues to stick by her team's side despite the change in role.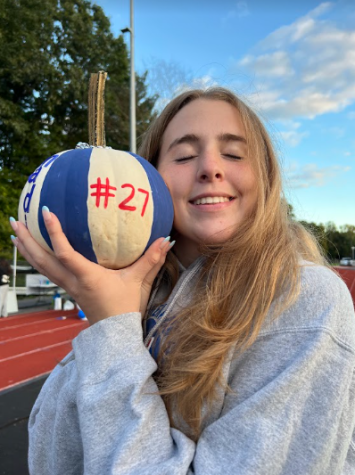 "She practically became an assistant coach," said Zoe Inglis, senior field hockey captain. "She's helping the incoming kids who don't know how to play. She's just been really helpful in that sense in helping us see what happens on the side." 
"On the sidelines you're able to see so much more than on the field. Being able to analyze plays and techniques of other teams is a powerful tool to use," said Dannenhoffer. "On top of that, cheering on my teammates and supporting them no matter what [is important]."
Still, Dannenhoffer's injury left a hole to fill. 
"The biggest change is the bus rides because she didn't go on [them] to away games in the beginning of the season, and that really sucked because we used to hang out with her and have a good time," Inglis said of Dannenhoffer's role early on as she wasn't able to travel with the team. Recently, Dannenhoffer has been cleared to travel. "We couldn't get hyped up for a game because Madi usually does that." 
Dannenhoffer had a hard time being stuck at home and not being able to do different things, but she knew she had to stay positive.
"Through all my pain, I knew I could either be my own biggest enemy or my own biggest supporter," said Dannenhoffer. "I will not stop fighting to get better, and I plan to continue celebrating myself and every step I take towards recovery." 
While looking for the good in her own situation, Dannenhoffer wants others who might be going through the same thing to know they can do it.
"Be your own biggest supporter and never give up," Dannenhoffer said. "A good mentality will carry you through tough times. Believe in yourself and look for the good." 
This will hold true for Dannenhoffer's basketball season as well. At the preseason meeting she shared a message with her team. 
"You couldn't keep me away from this team," Dannenhoffer told teammates, "even if you tried."