Annual 8th Grade Ag Open House: Inspiring New Students to NHS Agriscience
WOODBURY – The eighth-grade agriscience open house is an important piece to the future students of Nonnewaug High School. This event allows them to explore the agriscience facilities as well as meet current students and teachers.
During their visit, they are also introduced to the wide variety of animals, plants, and machinery we facilitate. Everyone gets a general understanding of what the school has to offer them if they choose to attend Nonnewaug. 
All ag teachers are accompanied by some of their students to assist in showing off their class. Students from each area of study play a vital role in making sure that their department is shown to its fullest potential.
To ensure prospective students get the best look at the areas of study, there is some preparation to be had. Mechanics classes spent their time cleaning and setting up the tools in the shop and organizing everything to look nice. For aquaculture, students cleaned up the greenhouses to make everything look presentable. Vet science, equine science, and ag production classes spent their time grooming animals and making enclosures look their best. Natural resources worked on making sure its sawmill is completely operational.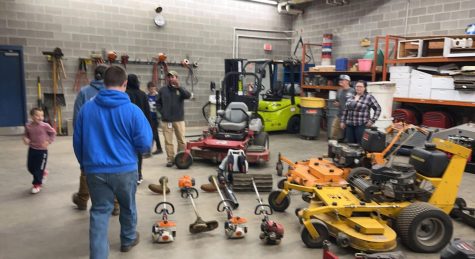 This process occurs for every class but focuses on making sure that their criteria are met and prepared. Nonnewaug offers a new perspective of agriculture for all its visitors by making sure everything looks more professional and presentable every year. 
The 2022 open house was held Oct. 18. The ag program had a lot of possible incoming eighth-graders show up to check out what the school has to offer. It was a busy night, but teachers felt it was a helpful opportunity to the parents and possible new students as well.
"I had a lot of parents come up to me with conversation and questions," said Leanne Golembeski, NHS aquaculture teacher. "[The open house] helps get kids interested and gives eighth-graders a visual factor of what we do."
The ag department did exactly that, from showing off the animals the school has to offer to even welding in the shop's welding booths for everyone there to see.  
This night was successful for Nonnewaug's ag department with teachers being proud of all the students that participated to help make this night possible and for the night to run smoothly.
"I think it went really great and students really stepped up their game to help share their knowledge," added Golembeski.