Brutting Steps Down from Coaching Girls Basketball Team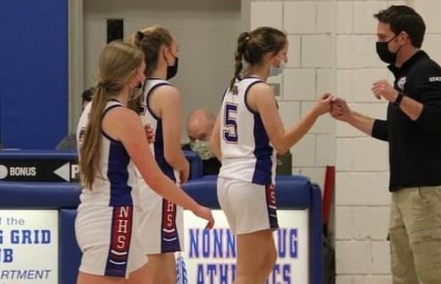 WOODBURY — Adam Brutting, former head coach of the Nonnewaug girls basketball team, announced over the summer that he would be stepping down after 10 years of coaching.
Having taught at the middle school for several years, Brutting decided to step up his professional career and go back to school. 
"I wanted to do some advancements. I decided to start a new degree program which is full-time online," said Brutting. "Coaching basketball in the winter is a very long season, four months, late nights and weekends. I wouldn't be able to juggle all that at once."
Although players say they'll miss Brutting, they support his decision.
"Even though it's going to be a big loss," said junior Juliette Nichols, "he left for the right reasons." 
The decision to step down from coaching wasn't an easy one for Brutting after putting so much time and effort into the program. 
"First of all, it was not an easy decision to make," Brutting said. "I love to coach. Basketball is one of my all-time favorite things."
While Brutting was the team's coach, the Chiefs had great success, winning two regular season Berkshire League titles and two tournament BL titles, including the tournament title in 2022.
"After we won BLs for the first time, we were on a roll," said Nichols. "We only lost a few seniors [from last year's team] so we still had a really good team, and none of us expected him to leave."
Brutting contacted the parents of this year's seniors before the start of school so he could let those players know he was stepping down. 
"I think they were bummed, [but] I had a lot of fun and have done some really good things for the program," said Brutting. "If they felt any way like I did, then they were probably thinking, 'Oh, this is kinda crummy.'"
Brutting said he constantly tried to make sure that his team members enjoyed their time on the team. 
"I tried to make it a nice culture for the players to enjoy," said Brutting. 
The former coach said along with the championship success, his other favorite memories were "seeing [players] celebrate and embrace each other for the small, medium, and big accomplishments, whether at practice or games. They are great at embracing the moment. That's fun to be part of."