Dream Team Reunited: 2002 State Champions Return
WOODBURY — Across from the entrance to Nonnewaug's Ed Sadlon Gymnasium resides a photo of nearly a dozen teammates and their coach, huddled together hoisting a pointer finger: number one. State champions. 
The faces from this iconic image came to life on a warm October night last week when members of the 2002 boys soccer state title team returned to campus to celebrate the 20th anniversary of a historic accomplishment. 
"That team and that season had a tremendous impact on my life," said coach Toby Denman, a first-year NHS faculty member at the time who doubled as the junior varsity coach and varsity assistant under head coach Jared Sheikh. "The relationships built around striving for and ultimately winning that state championship helped me find a home at Nonnewaug."
The backdrop of the anniversary team celebration Oct. 14 included a 3-1 win over Wamogo for this year's Chiefs (10-1), a win that places Denman's group in an ideal position to control their own destiny as they pursue a ninth league title under Denman, and his 12th overall when including his tenure as an assistant under Sheikh. 
The presence of the 2002 championship team provided more than just additional spectators, but also gave this year's team added motivation for adding to the program's legacy of success. 
"I made the decision last week to show our current team some video footage of the 2002 tournament run to help them understand some of the history that has shaped our program," Denman said.
His choice to educate this year's team about the program's legacy serves as a reminder to the group that winning is only a part of what makes Nonnewaug soccer the juggernaut it is today, and that building strong relationships allows the team to transcend the wins and losses. 
"I hadn't watched any of [the 2002 game film] in several years," Denman said. "So I'd forgotten about something I'd said at our end-of-season banquet about having met Jared Sheikh only a couple of months earlier and how I was proud to have made a good friend through Nonnewaug soccer. We coached together for another three seasons, and 20 years later, we still talk and get together regularly."
"Like We Never Left" 
While 20 years have passed since, the same feelings of excitement and togetherness never left for those who were part of NHS' first and only boys soccer state title. 
"I look back on the 2002 season as one of the most special times of my life," said Justin May, one of the captains of the 2002 team who played center midfield prior to playing at the NCAA level at Emerson College in Boston.
"Friday night's celebration brought back many great memories while also reinforcing the strong sense of tradition that Nonnewaug soccer is built on," May said. "It was an honor to be on the field again with Coach Denman and the current squad, who made us feel like we never left before taking care of business against Wamogo."
Sharing in duties as team captain on the 2002 team was fellow senior Tyler Sheikh. Sheikh scored both goals in the 2002 championship game and netted game-winning goals in the quarterfinals and semifinals.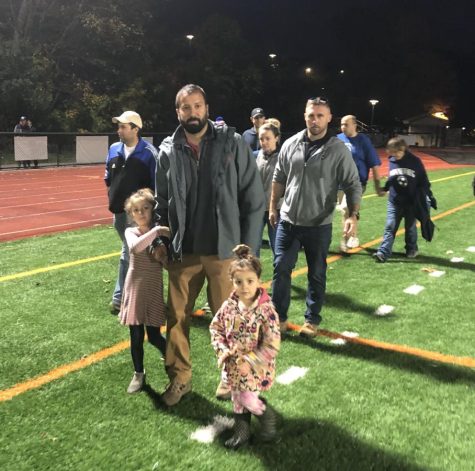 "We'll always have '02," Tyler said. "It's funny, I have snippets of memories from games, snippets of goals in even the championship game. Much of the on-field memories are a blur. What's etched in me and the rest of us is the consistent culture of caring, humor, competitiveness. My brother and coach at the time, Jared, spoke to some of the minutia that led to our culture."
The winning ingredients fostered under coach Jared Sheikh proved to be a recipe for success for his younger brother, Tyler, who parlayed 2002's championship run into success at the collegiate level, starring at both Stonehill (Mass.) and Quinnipiac prior to beginning a career in coaching at the NCAA level. 
"We all remember the daily grind and that shaped the men, husband and fathers we are today," Tyler said.
The youngest Sheikh, Tyler's game jersey from the title match hangs behind glass inside the athletics corridor within the high school. This uniform, two decades later, still dons the dirt and grass stains from Nonnewaug's memorable night.
"We can't be thankful enough for the time we had and the acknowledgement from our fellow Chiefs," Tyler said.
The 2002 team continues to be the measuring stick for talented groups that have come since. Included in Friday's festivities was a speech from then-head coach Jared Sheikh, who noted a unique bond that galvanized the group. 
"We had a culture," Sheikh said while holding a microphone and addressing the crowd, and his former players pregame. "We had built our own culture and it meant everything to us. It still does."
Assembling an Army 
Jared Sheikh's 2002 team was tethered together by what he called a fear of "prematurely saying goodbye to it all. If it had to end, it would be on our terms. We had earned that right." 
The culture that permeated the team wasn't just palpable among players and coaches, it was felt by every member of campus.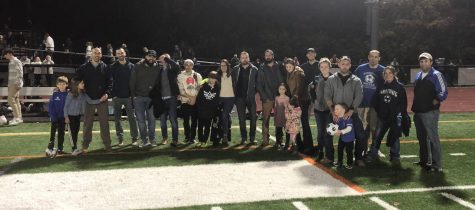 "Our custodians referred to us as the 'cult' and one freshman in the hall said we 'looked like an army,'" Sheikh said. 
This "army" shared more than just enough talent to crown a state title, but they also possessed a knowledge of the game and a penchant for teaching the next generation of athletes. 
"It's also interesting how many of the guys from that team have gotten into coaching themselves," Denman said of the historic group. "[2002 team members] Tyler Sheikh, Ian Taff, and Justin May have all coached soccer at the collegiate level. After spending time on Wall Street, Joe Martinez now teaches and coaches at the prep school level. Ben Wood coaches college basketball and Nate Walzer, after several college positions (including North Carolina State), currently coaches in the USL with New Mexico United."
The Next Era of Champions 
In addition to celebrating the 2002 Chiefs, the game also welcomed a visit from Woodbury-Bethlehem Youth Soccer where the next generation of players shared in the celebration. 
"When Coach Denman shared that we would be celebrating the 20-year reunion of the state championship teams, and we would be having a ceremony, I immediately thought of asking one of our WBYS teams to participate," Suzi Greene, assistant principal of Woodbury Middle School, said. "We have a well-established, supportive soccer community and it made sense to have the past, present, and future players participate." 
Three eras of Nonnewaug soccer adjoined at midfield added to the magic of an unforgettable evening. 
"Some of the 'old guys' were just as excited to meet the current team," Denman said of the celebration that featured multiple generations of Nonnewaug soccer. "All of us were pumped to see the smiles on the faces of the WBYS kids who got to share the field with us."