Nonnewaug Girls Soccer Team Hopeful with Move to Class L
WOODBURY — The Nonnewaug girls soccer team has found much success in the Berkshire League, winning multiple titles in the last decade. This fall, the Chiefs look to repeat last year's unbeaten streak with a BL title.
While they do thrive in the BL, the Chiefs hope they can turn their luck around to have a better postseason run than last year. Falling to old league rival Lewis Mills in the Class M second round was an unexpected end to the season.
With the team's unlucky history in the state tournament, the uncertainty about how the team will perform this year in Class L weighs heavily on many minds. Determination and perseverance will definitely highlight this season moving forward.  
"I think our biggest strength as a team is we are very close with each other, almost like a big family," senior Carley Shook said. "Bad passes or missed goals are never an issue with our team. We always support each other and stay composed. Our teamwork and communication has greatly improved this year."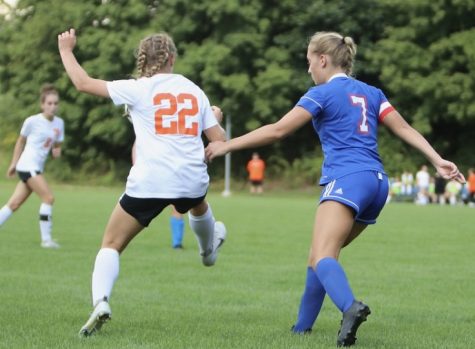 This season, the team won its first nine games and leads the BL standings.
"So far we have shown we can compete with our [early-season] success," head coach Nick Sheikh said. "Throughout the season, we must remain healthy and find creative ways to score from a variety of players. We must increase our success rate of passes and shots on goal."
This is a promising sign for the team's future as the state tournament approaches. 
With so many key players from last year having graduated and so many new faces in the starting lineup, it will be difficult for the team to return to its previous levels of success.
"We graduated a lot of our scoring prowess last season, so for this year we have to look for ways to fill those gaps," Sheikh said. "At this point in the season [through six games], last year's group had scored 37 and conceded one, while this squad has scored 24 and conceded two. Sam Conti was a big contributor last year so she should bolster our offense when she returns [from a knee injury]."