Nonnewaug Unified Earns Second National Champion Banner
WOODBURY — There are 185 high schools in Connecticut. Just 2% of these schools have met the requirements for being a National Champion Unified School for 2022 — and Nonnewaug High School's team is part of that 2% that met every single one of the requirements. 
Nonnewaug's Unified Team won its first banner back in 2018. Schools hold this title for four years, and in the fourth year, they are eligible to re-certify for another banner through Special Olympics. This year brings good news for Nonnewaug Unified as the program held all 10 requirements for a solid four years, and now there will be a new banner hanging in the gym. 
"The biggest thing about Unified is that we are recognized the same way any CIAC varsity high school sport is," says John Dominello, one of Nonnewaug's Unified coaches. "We meet regularly like any other sport does, more than the once a month minimum per the Special Olympics rules, and we have to have a coach just like any other sport."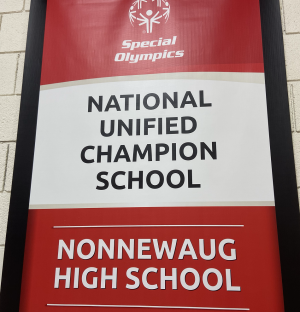 For Dominello, this is his 10th year coaching Unified. He coaches alongside Conor Gereg, and they provide sports experience as well as "Buddies Club" for students both with and without disabilities. 
"Unified is very inclusive, and that is part of the reason why we got to where we are," says Dominello. "Our most popular sport is basketball. We have 30-plus kids come join our team some years. You're not going to get cut; it's really just an opportunity to have fun and bring your friends."
"To be able to get this banner, Unified does not only need to be inclusive, but it also needs to have a number of other things, such as school-wide engagement," said senior Madi Dannenhoffer, who a multi-year participant in the program. "There's nothing like empathy and representation. Just like any other athletic team, event, or organization, the more people, the more influential and impactful. In Unified Buddies and Unified Sports, it is of the utmost importance to show up for people and make them feel welcome and accepted."
This is Unified's primary objective, and through this national accolade, it's tangible proof hanging from the gym walls that Nonnewaug surpasses those objectives.