Volleyball Hunts for the 6th Berkshire League Title
WOODBURY — The palpable atmosphere in the gym shows that the girls of the Nonnewaug volleyball team are ready to make another run for the Berkshire League title. 
"It would be amazing since the last time we won was in 2019, so it would really show how well our team works together," said junior Maggie Keane.
Nonnewaug has so far kept up a 9-2 winning record in the 2022 season under the direction of coach Marty Malaspina. The Chiefs' 2021 record through the first half of the season was 5-6, albeit this season has started out better than previous.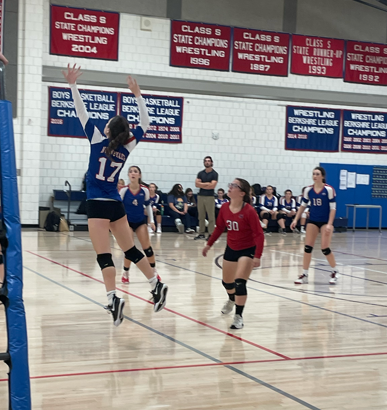 The team has overcome some challenging roster moves this season. 
"We had a lot of seniors last year, so the biggest difference is experience," said Malaspina, "but our girls are doing a solid job so far."
The Chiefs have been hard at work to achieve their many goals.
"We are attending every practice from 2:45-5:15 and we are working really hard," said Keane. "We work on communicating well with each other and giving constructive criticism and we are always trying to improve."
Before the BL tournament gets underway, the Chiefs want to get past their most competitive opponent in the league, Northwestern. Northwestern has taken the crown at the Berkshire League tournament for the past two years in a row, and the Highlanders beat the Chiefs, 3-1, in their first meeting this season.
"That team is very solid," Keane said. "They beat us last game and we have to go against them one last time and hopefully we win."
The Chiefs take on rival Northwestern on Oct. 12 at 5 p.m. at Nonnewaug.