A Sea of Pink in the Bleachers Helps Save Lives
WOODBURY — Nonnewaug High School was a sea of pink reaching from all ends of the athletic fields to the gym Oct. 27. Following the Spirit Week pep rally, students and athletes alike were preparing for one of Nonnewaug's most highly anticipated sporting events of the year. 
Five Nonnewaug teams played at home on this loaded evening. The games started directly after school with girls soccer and field hockey, followed by boys soccer, girls volleyball, and the long awaited homecoming football game as the nightcap.
The girls volleyball, girls soccer, and football squads all won, while boys soccer and field hockey teams lost, but for the school and community, these games were only a portion of what made the night so memorable.
Nonnewaug's Athletes' Council, run by Dean of Students and Athletic Director Declan Curtin, planned a school-wide fundraiser to raise money for a breast cancer awareness organization, the Cancer Couch Foundation, the same organization that benefited from the Spirit Week sales of pink accessories.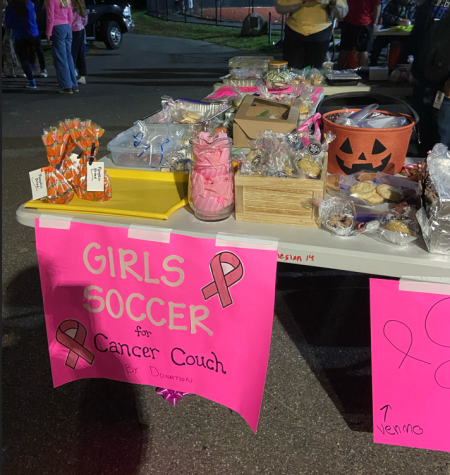 "Ms. Tricia Brown has always been connected to those involved with fundraising for cancer," said Curtin. "She pointed us in the direction of Cancer Couch. The Athletes' Council decided that it was a good idea to assist our school-wide efforts with fundraising for breast cancer." 
Athletes' Council co-president Charlotte D'Alexander played an active role in planning and executing this act of generosity. 
"Holding the bake sale during the homecoming games was a great opportunity to help spread awareness for breast cancer and more specifically the Cancer Couch," said D'Alexander. "During the month of October, it is very important to show awareness towards those who battle the disease and honor those who have lost their lives." 
And a great opportunity it was. Through the use of the games, Nonnewaug raised more than $1,800 for Cancer Couch. 
The athletic teams all showed their spirit with pink jerseys, socks, and ribbons, and the student sections painted their hair and faces pink. However, the synergy Nonnewaug prides themselves on was only part of the whole picture.
 "Oct. 27 provided a day for all of us to come together and to support each other," Curtin said.