Can Social Media Help Solve Famous Crime Cases?
People interact with the media constantly throughout their lives. Whether you'd like to admit it or not, the media as a whole influences our lives in more ways than one. From keeping up to date with our friends to viewing the latest celebrity gossip, we all find ourselves indulging in media during some parts of our day.
This may be seen as a bad habit, but can it ever be used for good? In the infamous Stockton, California murder case, social media, particularly Facebook, assisted in the eventual arrest of the crime's suspect. 
Back in April 2021, Stockton authorities announced that they had linked six killings and one non-fatal shooting in the area. The Stockton community decided to join together to help the police determine who could be behind all of this. One Facebook group called Stockton Serial Killer Community News and Information attracted thousands of members within days of its being founded Oct. 5, 2022. Now, it has nearly 4,000 members.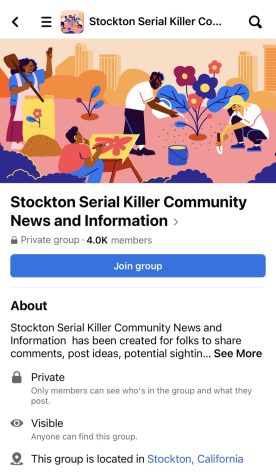 On Oct. 15, police arrested 43-year-old Wesley Brownlee and charged him with five felonies, including murder and carrying a concealed weapon in a vehicle. Before this, the Facebook group was hard at work trying to help the police solve this case. Some users speculated about the criminal's profile.
"He likely lives near the Delta College campus and uses the public transit bus route to target his victims being that each of the murders was within feet of a bus stop," posted one user, who said they studied serial murder. "He's also more than likely a loner who tries to blend in but has no perceivable social group and tries to place himself into positions of authority." 
Renee Myers, a lifelong Stockton resident and founder of this crime-solving Facebook group, also urged members to contribute tips, letting the group work together to solve this case. She and her fellow administrators also compiled tips and video evidence from private messages to send to the police.
Officer Joe Silva, a spokesperson for the Stockton Police Department, told the media he's grateful to the social media groups that elevated the public profile of the case and encouraged tips to come in by the hundreds each day.
The suspect, Brownlee, is a Stockton resident — just like Myers and many others in her Facebook group predicted. The amount of dedication to this case that was put forward by these honorary community members is inspirational at the least. 
"Social media can certainly play a role in helping a case," said Nadine Pratt, forensic science teacher at Nonnewaug. "If there is a picture of a perpetrator from the actual crime taking place, police could put their picture on social media to see if anyone recognizes that person or knows their whereabouts." 
Social media groups can have a great influence when it comes to helping law enforcement solve complex cases. This, however, can lead to civilians feeling as if they should take matters into their own hands. 
"However, there is also the issue of people who see the picture and approach that person without alerting the authorities," Pratt said. "This could cause them to be in danger. So, there are pros and cons to this."
"You're getting a lot of information out to a broader audience," said Chris O'Toole, Nonnewaug's school resource officer who noted that there are pros and cons to social media involvement in criminal cases. "When I first started back in the early '90s, there was no social media, so you'd just have to go door to door and try to get information. Now, the majority of all police departments have multiple forms of social media. It gets a lot of information out, but unfortunately, it also gets a lot of disinformation out."
O'Toole recognizes that public involvement can influence the credibility of criminal cases, creating a fine line between helpful and hurtful public involvement. 
 "Things get out there that aren't true and you now have to weed through all of the information you're getting," O'Toole said. "I had a missing person once, and we were getting so much information that we had to check its validity. Now with social media, it's on a greater level. It helps, but it makes it more difficult at times. Overall, I feel like it's a positive thing."
It's common for the public to take a vested interest in cases happening in their community; however, some envision social media creating a string of civilians that become personally invested and circumvent law enforcement. 
"To some degree, society getting involved can be beneficial, but to a point," Pratt said. "If society gets more involved, there might be more cases of vigilante justice where society takes the law into their own hands and by-passing the justice system."
O'Toole takes a different approach to this and believes that law enforcement desires the public's assistance when it comes to solving complex crime. 
"You want the nosy neighbor when you have a burglary; you want that kind of information," O'Toole said. "Once you get it out to social media, people realize that they saw something that they didn't think was important at the time but now it's crucial to the case. It does help [and] it is a tool. The more tools you have in your toolbox, the more help you get with solving all of these cases. It is helpful, but what you're getting in you have to weed through, and that's a bit time-consuming."