Brogna's Back: Former MLB Player Returns to NWU Sideline
WOODBURY — Rico Brogna's sports background speaks for itself — the former Watertown football and baseball star has recently joined the Northwest United Football program. Back in his glory days the QB and kicker helped lead his team, Watertown High, to a 31-0 state championship win in 1986 over Platt — and his sports career did not end there. 
"I think having spent basically a lifetime in sports, at the amateur and professional levels, all levels, that this has given me unique experience," said Brogna, an NWU assistant football coach, "so that I hope to be able to pass some of what I've learned along to our high school athletes."
The Watertown legend originally signed as a quarterback for the Clemson Tigers on a full ride as a kicker, but turned it down to pursue a career in MLB. Brogna was drafted by the Detroit Tigers in the first round and was the 26th overall pick. 
During his nine seasons in MLB, he played for the New York Mets, Philadelphia Phillies, Boston Red Sox, and Atlanta Braves. 
After retiring from his own sports career, Brogna began his coaching career in 2006 where he managed the Post baseball team. From there, he skipped around by helping out any team he could.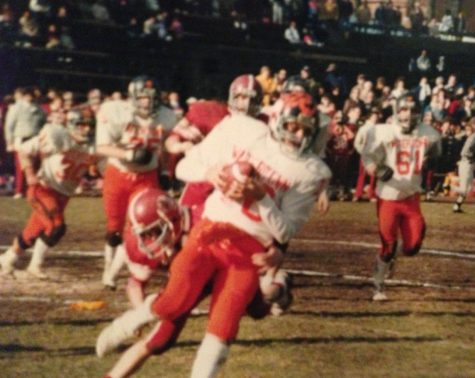 "I've been through a lot of different situations in sports as a player and as a coach, so I'm confident that I'll be able to use these experiences to help our team collectively and our players individually," said Brogna, "especially when they get their hearts beating quickly in close games."
Brogna landed a job at Nonnewaug in 2007, when coached the Chiefs to their first varsity football win. During that time, Nonnewaug was in only its second season as a varsity team. Brogna left after just one year with the program to coach college ball at Wesleyan University. 
Fifteen years later, he wound up back on Nonnewaug turf, only to return to a completely new program and field. Not only did Nonnewaug gain a brand-new turf field after undergoing a renovation, but also a new football program.
Nonnewaug football originally co-oped with two other teams, attributing to the now-renamed Northwest United football team (along with Wamogo and Wolcott Tech).
The Northwest United football program made headlines back in September 2021 in its first game of the season. Head coach Jenn Stango Garzone led her team to a 26-14 victory over Platt Tech. She made football history by becoming the first female high school football coach to win a game in Connecticut. 
This year, the program welcomed two additional schools, Shepaug and Litchfield. The already history-making team is looking to build their program. This year, the Workhorses are 7-0, and Brogna's methods seem to be helping the team. 
 "His knowledge of the game, insight in preparation and planning, as well as how to continue to build our program are just some of the many attributes he has brought to Northwest United," said Garzone. 
Brogna has not only helped the players, but also has helped the coaches become better. 
"I actually grew up idolizing Coach Brogna, and he is part of the reason why I chose the No. 10 in my collegiate career as a student-athlete," said Garzone. "He has taught me how to be a better coach on and off the field and I am truly grateful to have him a part of our staff." 
Brogna's sports and athletic career has contributed to his success with coaching. 
"The goal is to win the game," Brogna said, "and that message, one of how to compete, is one I'm confident I can pass along to our team, to our players."