Magic of Senior Night Leads to Emotional Games
WOODBURY — Senior night is a memorable night for student-athletes. For most, it will be their last time ever stepping foot on their playing grounds. Some athletes end up playing college at the next level, but for most, that's not the case.
Fall athletes shared a similar mix of sadness and bittersweet feelings on their senior nights this year. 
Girls soccer had its senior night Oct. 31.
For many seniors, stepping off the soccer field is a bittersweet moment.
"It was really hard to know that I was never going to play again," said Mallory Tomkalski, a senior soccer captain. "I'm just really thankful for all the time I got to spend playing soccer, especially in high school." 
Boys soccer players shared similar feelings during their senior night. 
For boys soccer senior Dylan Chung, who spent the majority of his senior season on the sidelines due to a fractured hip, his senior night was especially special. 
"The senior game was fun, I wish we came out with a win but we can't win every game, we came out in a tie. I was happy to be out there with my team," said Dylan Chung. 
Field hockey's senior night feeling was different since it was held Sept. 27.
"We had all of our home games scheduled in the first half of the season, so figuring out when we could do senior night was really hard," said Zoe Inglis, a senior captain. "It just felt like the date was getting earlier and earlier in the season."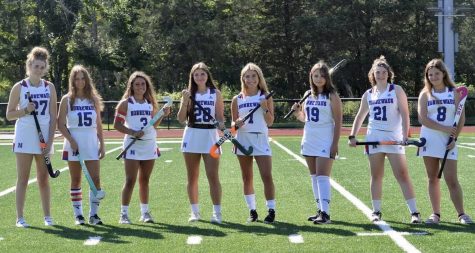 In most cases, on senior night the juniors are the teammates to take care of most of the planning and setup. Since the field hockey team had limited players, the underclassmen had to step up. 
"I want to thank the sophomores who stepped up to help out our three juniors on our senior night, because we had eight or nine seniors and they needed all the help they could get," said Jamie Paige, senior captain and field hockey player, "so shout-out to Kyleigh Paige for giving her sister a great senior night!"
Even though all of these sports are in the fall season, the football team held senior night later Nov. 18. 
With a big stage to play on and a way bigger crowd cheering the team on, football seniors had an emotional and memorable senior night. Even though Northwest United's senior night was not the last time they would play on their home field, emotions were still strong. 
"Most of us have played this game throughout high school, and to be recognized for our dedication really makes us feel good," said John Paul Cuccia, a senior captain. "To play this game with the family we've built is just incredible. We couldn't ask for a better group of young men to now call family."
The game felt different for Cuccia that night as he slowly realized that "for most or all of us seniors, it will be the last time we put on our pads in front of the best fans ever. At the end of the day, I can say I'll walk off that field with no regrets about how I played the game, who I played it with or for and the intensity I had. When you put everything you have into a game like this, it's satisfying in a way to know that you finished with nothing left to prove."
Teammates and coaches were not the only ones who helped to make this night special for all sports but the parents as well.
"I mean, nothing is possible without the parents of the booster club and all of them," Cuccia said. "They make all the all the snacks after games, help set up the field and everything is on them so you know, lotta love and credit to them.