Nonnewaug Alumni Make Way to UConn Women's Basketball Practice Team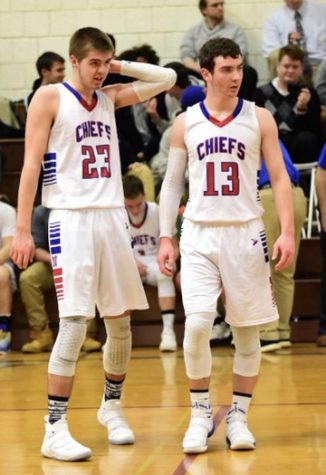 WOODBURY — The UConn women's basketball program is one of the most famous Division I programs in America. The Huskies conduct intense practices, and that's reflected by their success.
The women's team practices against a male team during their season. Two Nonnewaug alumni, JD Gengenbach and Jarrett Michaels, are on that team. 
Gengenbach and Michaels, who graduated in 2019, were captains of the Nonnewaug boys basketball team. They were strong players, but didn't decide to play in college.  
Both ended up at UConn as roommates and are seniors. Michaels has been playing on the practice team since his junior year at UConn.
"I first heard about the practice team from my dad," said Michaels. "I have a friend whose friend is on the team, so I got to talk to him about it then I decided to try out." 
Gengenbach tried out for the team this year.  
"I've always heard that the women's basketball team practices against a male practice squad," said Gengenbach. "When I learned about it from my roommate Jarrett that they were having tryouts, I made sure to be there."
It takes talent to make the practice team, and many kids try out each year. Michaels and Gengenbach were talented enough to be a part of it. 
The practice team has to go through the same protocols as the women's team. They have to pass a physical with the team doctor and maintain good grades. They are provided with equipment, including custom UConn shoes. 
Being a part of the team has given them many memorable experiences.  
"My favorite experience would probably have to be going to the Final Four last year in Minnesota," said Michaels. "It was a really cool experience and they gave the practice players a ticket for free."
"My favorite experience so far was practicing in Gampel [Pavilion] in front of UConn athletics donors," said Gengenbach. "It was so cool to be able to play on that court and see what the arena looks like from a player's perspective."
The team is very welcoming and grateful for the boys on the practice team and all their help.
"Aaliyah Edwards has always been super friendly and outgoing, saying hi to me in practices and around campus. She definitely made me feel welcome," said Gengenbach.
Division I basketball practices are far more fast-paced and intense than high school. UConn specifically has a lot of pressure to be the best. The girls work hard to achieve that and it reflects in their practices. 
"They do a lot of drills and run plays just like we would in high school," said Michaels. "They are just held to a way higher standard and expectation than what we had in high school."
These two Nonnewaug alumni are a small but important part of such an influential program.