Nonnewaug Celebrates Everything Ag at 95th National FFA Convention
INDIANAPOLIS — Nonnewaug agriculture teams, students, and faculty woke up early Oct. 24 to start their journey to Indianapolis for the National FFA Convention. The 37 students included six CDE teams, creed speakers, some of the Connecticut state officers, and students accepting awards, like the Star Chapter Award and the Premier Chapter Award. 
Nonnewaug kids made a great showing, coming home with plenty of awards including two gold, one silver, and four bronze plaques for CDE/LDE competitions, as well as a top-three trophy for the Program of Activities – Growing Leaders category and a Three-Star Chapter Award trophy. 
Between the competitions, convention and expo, community service opportunities and free time roaming downtown Indianapolis, everyone seemed to have an experience and memories that would last forever. 
The Quiz Bowl team started their competition the Tuesday it arrived in the city. It was the first team to compete out of everyone, starting promptly in the evening. Liam Sandor, who competed on the team, said the entire experience provided motivation to do more in the Woodbury FFA.
"Nationals definitely motivated me to get more involved with other CDEs," Sandor said.
The Conduct of Chapter Meetings team competed bright and early on Wednesday.
"It's definitely scary because you want to start off the week right for your chapter," said Kyleigh Paige, a sophomore Conduct of Chapter Meetings team member, "but I knew the whole chapter was behind our team no matter what and wished us luck."
Throughout the week different teams, such as Livestock Judging, Floriculture, Landscaping and Meat Judging, and Creed Speaking, all competed.
Teams must compete as individuals and together as one. These skills are meant to show their own knowledge of the event, skill, preparation and teamwork. 
"The competition wasn't that stressful," said senior Ryan Wicklund, Nursery/Landscaping team member. "It was stressful packing, [but] the bus ride up and the stadium and it was just so surreal. After the first day, it felt normal, but all I could keep thinking was, 'How was this all happening?'"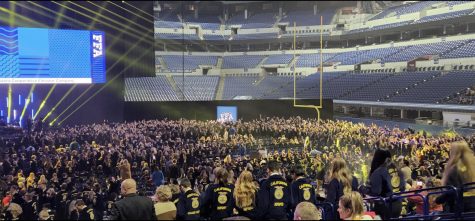 Nationals kept students busy at all times – teams that weren't competing went to the convention center and expo or had a chance to sit in on the national sessions run by the National FFA officers at Lucas Oil Stadium. 
"It was impactful because I've never seen that many FFA members and I've never seen that good of speeches," Wicklund said. "It was like everything that happens in our chapter times 1,000." 
At nationals, there was no competition for the Aquaculture team, which won the state contest in the spring, but that didn't stop the Aquaculture team members from going and experiencing nationals with their peers. 
"I am a chapter officer this year, and plus, we won states in aquaculture. It was kind of a given [that] I was gonna go, it's an experience of a lifetime," said Nick Saccomani, Aquaculture CDE team member and chapter parliamentarian.
Senior Jamie Paige, who competed alongside senior Joe Velky, said she was grateful for the experience.
"Being able to go to nationals was a once in a lifetime opportunity that I am so thankful to have experienced," Paige said. "This trip gave me an insight into how our work in our chapter at home is being done around the country. Also, being able to see where what we are learning in FFA ends up was a really full-circle moment for me. I could see how what we learn is put into use in the real world every day."
Awards for each team were given throughout the entire week. These awards gave individual recognition for each three levels of placement, as well as group placements. Individuals were awarded pins. Groups earned plaques with their respective placements and emblems.  
However, the national competitions were not the only event that FFA students were excited to be a part of. Along with the competitions, students and faculty had the chance to walk around and visit the booths and activities of the convention and expo. FFA members walked around representing their state and chapter by wearing their blue corduroy jacket that went along with their official dress. 
Being at nationals made a lot of not only students proud but teachers feel special to be a part of something so amazing.
"I will never forget how nationals make me feel as an ag teacher," said Tom DiMarco, Nursery/Landscape teacher and CDE coach. "In my opinion, going to nationals helps to reinvigorate all of the reasons I do what I do as an ag teacher and guide students to the countless opportunities that are available to them while in high school and beyond."