Northwest United Wins Homecoming Game to Stay Unbeaten
WOODBURY – The Northwest United football team overcame a 10-point first-half hole and held on to defeat the Bullard Havens-Kolbe Cathedral co-op, 36-31, to cap Nonnewaug's homecoming sports day Oct. 27.
With the victory, the Workhorses moved to 6-0.
Northwest United fell behind 18-8 in the second quarter, but Ben Roden scored on a touchdown run of 64 yards to pull the home club within four points at the break. That spurred a second-half rally to keep the squad undefeated.
"The biggest motivation for us this season is our disappointing finish last season," said senior linebacker and wide receiver Sam Scott. 
The Workhorses are hoping to use last year's results, which saw them finish 7-3 and miss the state playoffs, as a driving force for this season. 
"I believe we are motivated to do just that this season, and that's what we're working towards," Scott said. "With this team and coaching staff, I know we can do it." 
With 8:51 remaining in the third quarter, Roden tossed a 30-yard touchdown pass to Reed Woerner, and the duo hooked up again for the two-point conversion to put the Workhorses ahead, 22-18.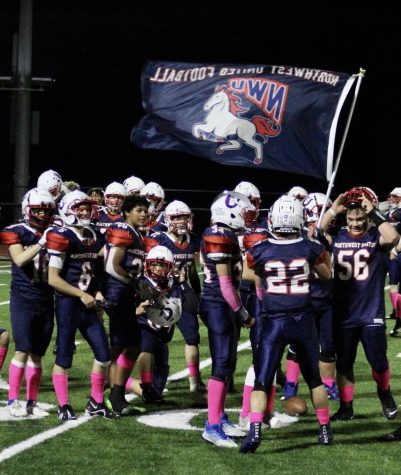 Late in the third quarter, Roden added a 19-yard touchdown run to make the score 28-18.
Early in the fourth quarter, Bullard-Kolbe closed the gap to 28-25 thanks to Armani Gulley's fourth rushing score of the matchup. Roden responded with an 18-yard touchdown run and a two-point conversion throw to Derek Chung for a 38-25 advantage.
Stanley St. Victor scored on a touchdown run of 8 yards for the visitors, but the Workhorses recovered the resulting onside kick to secure the victory.
"We play good football and we have a great team, but in six games we've played the hardest we have all year," added Scott. "We have been working hard to start off the game strong, and finish stronger."
Northwest United's first touchdown of the contest was scored by Jacob Bourgoin, and John Paul Cuccia added the two-point conversion run.
"It's great to see everyone come together as a team," said senior running back John Paul Cuccia. "Everyone on this team is motivated and committed to winning the league and making a solid run in the playoffs. These are the qualities that you need for a high-level football team." 
The Workhorses will visit Quinebaug Valley (5-2) on Nov. 4 and Prince Tech (1-6) on Nov. 12 before wrapping up the regular season with two home games, Nov. 18 vs. Platt Tech (3-3) and Nov. 23 vs. Abbott Tech-Immaculate (5-1).
Northwest United is ranked second in the Class MM playoff rankings behind only the Sports and Medical Sciences Academy. The top eight teams will qualify for the postseason; no team from Nonnewaug has ever made the state playoffs.