Pink-Out Raises Nearly $2,000 for the Cancer Couch Foundation
WOODBURY — Every October, the world is clad in pink to demonstrate support for everyone affected by breast cancer. At Nonnewaug, students and staff chose a day to do the same.
The Pink-Out, which was an event organized by the Student Events Planning Committee, took place Oct. 28 with a successful turnout.
"This year was successful because we took up more advertising," faculty advisor Tricia Brown said. "I think in the past we only raised a couple $100, but this year I think it's closer to $2,000."
At the start of spirit week, seniors Genieva Pawlowski and Madison Innes volunteered to work at the sales table during the lunch waves. Sales of pink beads, bandanas, and bracelets assisted in raising money for the Cancer Couch Foundation.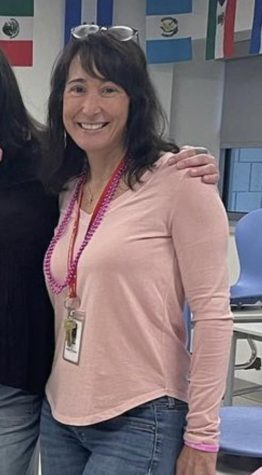 "We figured out what supplies we wanted to buy, and then we just bulk-ordered them," Innes said. "That was pretty much it."
Even though the preparation for the event was seemingly effortless, the importance of raising money for the Cancer Couch Foundation could be life-changing for many people.
"One of my good friend's sisters was diagnosed with stage four breast cancer, which is incurable. She started blogging and got popular so she started this foundation," Brown said. "There isn't a lot of research on metastatic breast cancer, so they're trying to raise more awareness about it. Most people think with breast cancer, 'Oh, you get cured,' but not everybody does get cured."
The goal for the upcoming years is to keep raising money in support of this research foundation, but with the loss of prominent seniors, the committee might need other students to take charge.
"We don't know who's going to take it over next year," Innes said. "But a lot of people have been asking for socks, so that might be something we could include in the future to raise more money."