Spirit Week's Return Energizes Nonnewaug
WOODBURY – Participants in spirit week from Oct. 24 through Oct. 31 really dressed up for the occasion.
The Student Events Planning Committee took the first two months of school to plan the fall spirit week and came up with new ideas. The committee extended the normal five-day spirit week into seven days of fun. The club found out what themes students wanted by sending out a Google Form.
For the first day, the school dressed as their favorite movie characters. Movie Monday was a hit with the teachers. Karen Sandor, a Spanish teacher at Nonnewaug, dressed up along with some of her other staff.
Many students participated in spirit week, but the freshmen showed the most school spirit in Tricia Brown's eyes.
"The freshmen were awesome," said Brown, the math teacher who is also the faculty advisor for the events committee. "They got into it more than any other freshman class I have ever seen."
Students and staff grabbed their surfboards and motorcycles for Teen Beach Tuesday. Teachers like Kyle Brennan and Toby Denman showed their school spirit during this day by dressing up as surfers in the surfer vs. biker war.
Then, Nonnewaug was prepared for Western Wednesday. This was one of the most popular options with the most participation from the school.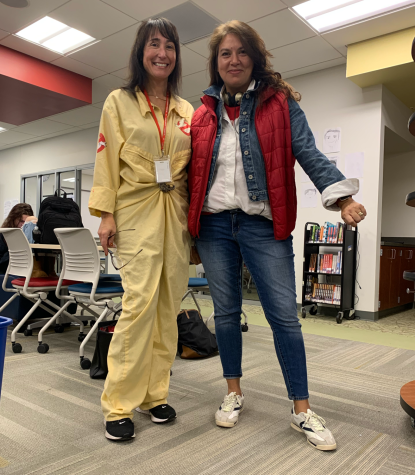 "I thought Western Wednesday was fun," junior Veronika Depaul said. "I actually dressed up for this one."
Emma Marques, a senior at NHS, was excited about Thursday's color wars.
"I was happy that our class got to wear black for the first time," said Marques. "I was sick of wearing blue and red for every color wars."
Freshmen were assigned blue, sophomores red, juniors white, and seniors black.
Friday was the annual pink-out to raise money for the Cancer Couch Foundation, which helps fund metastatic breast cancer research. NHS raised just over $1,000 from sales of pink accessories, according to Madison Innes, president of the Student Events Planning Committee.
Cody Kellogg, a senior at NHS, enjoyed the themes for the week.
"They were all new [ideas]," Kellogg said. "I really liked this spirit week."
What's Coming
In the future spirit weeks, students and staff should expect fun themes they have requested, such as Anything But a Backpack Day sometime in the winter. 
Pep rallies will get a lot more fun, according to Innes. Future pep rallies may also last longer due to the students' wishes, according to Brown. 
"Teachers vs. students battles will be very interesting this year because we have a lot of good things coming, including inflatable costumes," says Innes.
Brown also mentioned that the February Red-Out is one of our school's best fundraisers, and she hopes for an even better outcome than last year.
"Our school puts lots of effort into giving back to the community. Our redout will be a combined fundraiser to raise money for the Leukemia and Lymphoma Society," says Brown. "Last year, the region raised close to $6,000. We hope we get to $10,000 this year. The grade [that] raises the most money will get a prize for the spring pep rally."
Students should reach out to anyone on the committee with new ideas or thoughts to give the students a chance to control what future spirit weeks look like.