The Science Behind a Great Instructor: Kathy Yocis
WOODBURY — The faculty at Nonnewaug is outstanding; they are incredibly helpful and constantly look for methods to make learning enjoyable. There are so many outstanding teachers at Nonnewaug. So that we can get to know them and truly comprehend who they are as people, the Chief Advocate would like to introduce some of them. We'll begin by presenting Katie Yocis, a beloved educator.
Yocis works in the science department, but beyond that classroom, many students see Yocis as a friendly face and someone students can talk to when trying to navigate the many stresses of high school. 
"She's a very caring and thoughtful person," said Shelly Stone, science faculty and departmental colleague. "She's my best friend."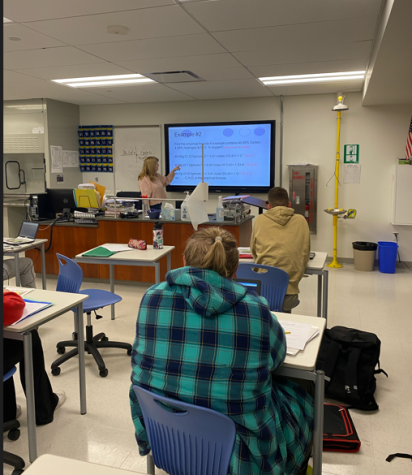 Students and faculty alike note how Yocis is very helpful with everything and always makes an effort to ensure her students understand the concepts of her science classes. 
"She's a great teacher," senior Kaylia Hall said of Yocis, noting that she finds ways to assist students with their schoolwork.
Yocis' attention to detail sets her apart since she is very attentive to her students and ensures that they understand what they are doing.
"She makes sure to let you know when you're missing work and helps you with it," Hall said. 
Yocis is a teacher that affects the faculty and students of Nonnewaug on a daily basis.
"She's a person that I actually feel comfortable talking to," says senior Destiney Acevedo. 
Yocis is a big piece to the puzzle that completes Nonnewaug.