Trick or Treat Street Spreads Halloween Joy at Nonnewaug
WOODBURY — Trick or Treat Street is a compact celebration of fall festivities, a unique alternative to traditional trick-or-treating where families of any size can come together for an enjoyable Halloween experience with half of the usual hassle.
The event is run by the Nonnewaug High School Student Council in conjunction with a wide range of clubs and organizations that sign up to participate in the night of festivities. Each group takes on an individual theme — anything from Monsters Inc. to a foam graveyard.
Parents and children alike walk the path around the school, visiting each booth, meeting some of their favorite characters, and — of course — gathering candy, for a small admission fee of one canned good or donation per child.
Last weekend, the Halloween enjoyers of Woodbury were out in full force; trick-or-treaters flooded the Nonnewaug walkways, and excitement filled the crisp air.
"My favorite part is watching the little kids walk through," said senior Megi Gorka. "They're so cute and so precious."
"I think it's a really good opportunity for the kids to have fun and bring everyone together," said senior Rebecca Varnum. "There are so many kids here tonight, and they're all having a great time right before Halloween. It helps out the local food banks, too."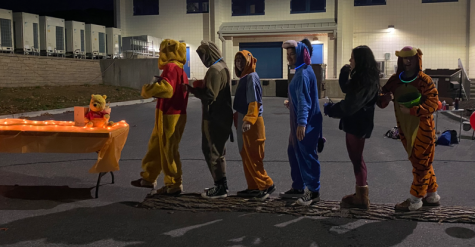 Within the first half hour, the Student Council collected more than six boxes of donated nonperishables — and that was only the beginning. 
"It was a big success," said senior Sophia Dmitriyeva. "All the clubs really just stepped up to the plate and made these super cool, exciting themes and activities for the kids."
This year's Trick or Treat Street featured themes that highlighted the imaginative nature of the students behind them. Finding Nemo, pirates, and Hollywood were only some. Trick-or-treaters also visited the wild west with class of 2025, a miniature carnival with class of 2024, and Toy Story with the class of 2023.
"It creates such a safe environment for the kids to trick-or-treat in," Dmitriyeva said. "It's great to see."
The night ended with more than 20 large bins of nonperishable food collected, later to be donated to the Woodbury and Bethlehem food banks, and additional monetary donations to the local fuel bank.