A Familial Legacy Of Service: Emmet Ray
WOODBURY — Ray: the last name of many American war soldiers who have fought through all of the brutal wars since 1775. 
Emmet Ray, a junior at Nonnewaug, is the youngest of three brothers, one of whom, Ethan, is currently serving in the U.S. Marine Corps. Ethan has been serving for roughly a year and is continuing to serve.
"It is something that he has always wanted to do," Emmet mentions. "He is also an underwater welder when he is home."
Although there are many different branches in the United States military, like the Army, Navy, Air Force, Coast Guard, and Space Force, Emmet has an important decision to make to keep the family's legacy. 
"I was thinking a lot about joining the Marine Corps," Emmet says.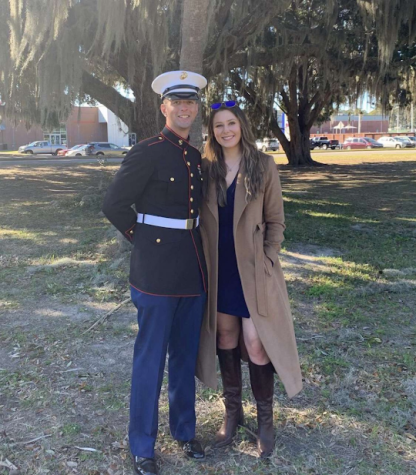 In addition to his familial legacy, Ray has built his own within himself in his work and hobbies.
After school and on weekends, he works at Stone Construction in Southbury.
"Usually I'm organizing the feed rooms and filling out feed orders," says Ray. "Recently I've been using the forklift to move a lot around and have been handling a lot of paint mixing, which has been better than working at the counter. It beats working at the counter 25-30 hours a week because now I've been trusted to do a lot more." 
Outside of his busy work schedule, Ray finds time to unwind with other activities.
Playing the guitar is one of his few hobbies, and he also enjoys playing with his dogs every night and occasionally working on his truck.
He also finds time to pick up sports and remain active.
"I have played basketball most of my life but not as much anymore," says Ray.
There was one reason he stopped putting time towards the basketball teams, and that's because he started to find other interests.
"I like to go to the shooting range in my free time, too," Ray said.
When his time isn't being consumed by everything else, he finds a way to give back to the community like his family has been for 248 years.
Helping load people's cars and trucks with the material they've bought is just one of the few ways he helps people out to the community. 
"He is a determined worker," says T.J. Butkus, one of Ray's close friends for many years. "He helps us put in hay deliveries and helps stack wood with us, too. He works hard to keep up with us the best that he can."
Ray tries to help out wherever he can and will continue to give back whether he decides to be a part of his family's military legacy or not.