Ag to After School: Alexander's Road to Success
WOODBURY — Waking up in the cold and the dark — especially hard in the winter months — she pulls herself out of the warmth and coziness of her house to begin her day. She wakes up at 5 a.m. … and stops working at 5:30 p.m. That's a 12-hour full day for Katie Alexander, but she still gets up every morning nonetheless. 
As an ag student from Oxford, Alexander has an early morning rise with a 30-minute bus ride to Nonnewaug High School. Once she gets to school, she has a difficult course load of challenging classes.
Following the school day, Alexander is involved in various extracurricular activities. Mondays are a struggle because of the National Honor Society meetings, as well as Class Council meetings. She works hard to balance her attendance for both. Also a part of English Honor Society, the Woodbury FFA Memory Book Committee, and the Harbor Program, Alexander is a role model for her participation in school extracurriculars. 
She is a co-treasurer for the Class of 2024, along with Maddie Stewart, and with this role she helps to plan activities such as senior field day, senior trips, senior prom, and activities for the junior class this year. She has attended multiple bake sales and fundraising events. 
One would think that someone so busy and involved might lose their endurance to maintain so many leadership positions. For Katie Alexander, her qualities as a leader never wane. 
"She is soft-spoken — one of the kindest, most nicest kids," said Class of 2024 advisor Chris York. "People listen when she speaks, and I really appreciate her quiet leadership in Class Council."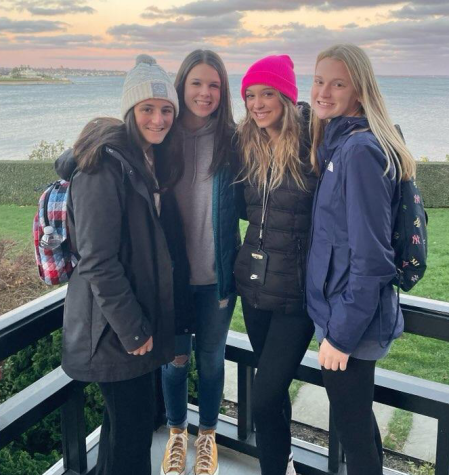 Junior Gianna Lodice agrees.
"Katie and I have been friends since fifth grade," said Lodice. "Ever since the moment that I met her, I knew that there was something about her that would make her one of the best friends I have ever had." 
"Katie is such a sweet person," said Sara Norton, a close friend of Alexander. "She's so caring and one of the most reliable people I know."
In November, Alexander went to UConn for a poultry judging CDE (career development event) where her team competed against nine other agriscience schools. The teams are made up of four high school students who show an interest in the competition topic and compete at the state level. Students are selected to be on the team on a first-come, first-serve basis. 
"At UConn, we judged live chickens, chicken and turkey carcasses, eggs, and chicken products, and took a test on general knowledge about poultry," said Alexander, reflecting on her experience. "Although preparing for this competition is stressful, we had a lot of fun and ended up getting second place."
From representing Nonnewaug at a state event to being involved in extracurriculars and prestigious club honors — and being a sweet person in general — Alexander is a 17-year-old with a bright future ahead of her. 
"She is an amazing person inside and out, and everyone who meets her can easily tell right away," said Lodice. "I am so grateful that I have had her by my side for so long."