Former UConn Walk-On Brings Knowledge to Nonnewaug as Assistant Boys Hoops Coach
WOODBURY — It was the fall of 2007 when the UConn men's basketball team played at Madison Square Garden against the No. 3-ranked Memphis Tigers. On that team was future NBA MVP Derrick Rose. On UConn's bench was none other than Nonnewaug boys basketball assistant coach Kyle Fitzpatrick.
"As a life-long Knicks fan, stepping on the floor at MSG had always been a dream of mine," Fitzpatrick said. "The game came down to the wire and we ended up losing in the final minute. Despite the loss, it's an experience I'll always cherish."
Now, Fitzpatrick is in his second year on the Chiefs' bench, assisting alongside his brother, head coach Tim Fitzpatrick. 
Last year, Nonnewaug was left without a boys hoops coach with the season approaching fast. The Nonnewaug administration conducted interviews to find the best fit and that they did: Tim Fitzpatrick. He brought on his brother, Kyle, and his former teammate and friend, Chris O'Brien.
"He belongs to a very large family; they are very tight," Nonnewaug athletic director Declan Curtin said of the Fitzpatricks. "The entire family comes to games to support. He's also been with his brother side by side at other coaching jobs."
During Tim's interview for head coach, he mentioned that Kyle had also walked on at UConn.
The Huskies are one of the most elite Division I programs in the country. It takes a lot of talent to play for them, especially at the time when Kyle Fitzpatrick walked on in 2007-08. During this time, UConn's coach was the famous Jim Calhoun, who coached from 1986-2012 and won three national championships and seven Big East tournaments.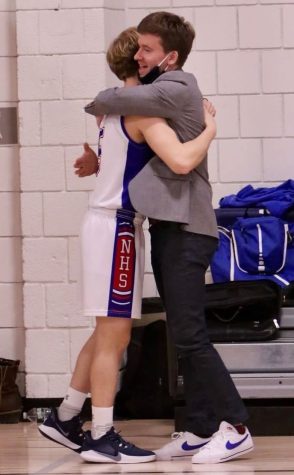 "When you walk onto a team at a Division I college at that level, you know you're gonna learn a ton, and Kyle did," said Curtin. "He worked hard, and that's how he got there."
Kyle's career included a stint on the UConn women's practice squad for a few weeks and the 2006-07 men's practice squad. Although he never got to play in an actual game, he did get to suit up and travel with the team a lot. He got to experience many things just traveling with the team and practices.
"I loved how former UConn players — many of whom were in the NBA — would constantly come back and practice with the team," said Kyle Fitzpatrick. "The walk-ons would often pair up with the NBA guys and run games against the starters."
Even just practicing with such a high level team resulted in experiencing things many dream of doing. 
"The game always feels a little easier when you have Ray Allen or Rudy Gay on your side," said Fitzpatrick.
Fitzpatrick has a passion for those who work hard. Fitzpatrick and his favorite teammate, another walk-on named Alex Hornat, both worked hard to get the opportunities they did. He has an insight like no other and values grit over talent, and both of those factor into Kyle's contributions to the Chiefs.
"He's very good at identifying the matchups on gameday and where they can exploit the other team," said Curtin, who noted that Kyle's scouting abilities helped throughout last season. "He kept asking for all of the tapes of our opponents. He can break down film like no other. He kept giving us game summaries."
Curtain described Fitzpatrick as "an absolute asset." His experience at UConn has really reflected the way he coaches today. Fitzpatrick looks to use his UConn knowledge and apply it to help with the Chiefs this winter.