"Friendsgiving" Kicks off the Start of FFA Holiday Season
WOODBURY — The Woodbury FFA chapter hosts many events, some being annual. This year, the FFA added another one to the list.
On Nov. 18, the Woodbury FFA Events Planning Committee hosted Friendsgiving. The event was hosted in a potluck style and consisted of different foods and beverages, games such as cornhole, Spikeball, and Kan Jam, as well as A Charlie Brown Thanksgiving movie.
With this being a first-time event, many nervous thoughts were abound, especially among committee head Ryan Wicklund.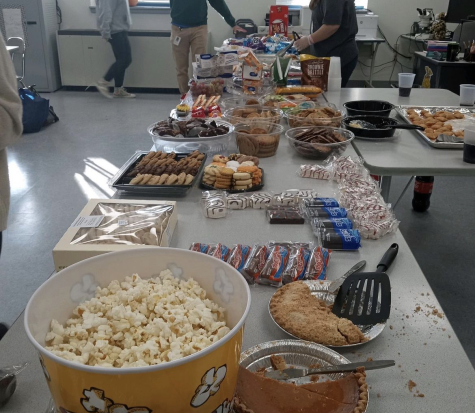 "Going into the event, I was skeptical. Theoretically, it's an easy event to run," Wicklund said. "I was wondering what the catch was, what was gonna make it hard to do. Going into the event, I didn't know if we were gonna have enough time to prepare beforehand, but it didn't go that way."
Overall, there were 47 attendees, some of whom shared their favorite parts.
"I liked the event; it was a lot of fun. I liked how we could also go outside and play games," said freshman Connor Cabeleira. "I'd be interested in doing an event like this again next year."
As there were many great reviews of the event itself, there's always room for improvement to make it even better next year.
"Personally, I think it went really well. However, I do feel like there are things that we can work on for the next time we have the event," Wicklund said. "I think we should move the games inside, and maybe limit who brings what food so we have different foods and not all of the same things. I also feel like next time we can have everyone say what they're thankful for, so it can be like a more traditional Friendsgiving."
The chapter is hopeful that a Friendsgiving social will be an annual staple in the FFA calendar for years to come.